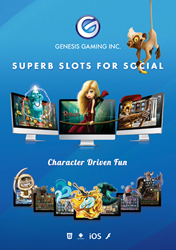 San Francisco, CA (PRWEB) April 21, 2015
Genesis Gaming Inc. (Genesis), a key supplier of slot game content, has today announced a comprehensive content catalog solution for Social Casinos seeking a plug and play catalog of proven video slot content. Genesis has built a reputation on premium video slot games for both land-based and online gaming, and has been a successful provider of exclusive white-label social casino slot titles. This new offering allows a Social Casino to grow with a single integration to get 20 games at once.
"We have been providing high performing video slots for some leading social casino sites for a number of years." said Geoffrey Hansen, Managing Director. "We are taking our success and experience with these select Social Casino partners, and making some of our top real-money gaming titles available to Social Casino partners through a simple plug and play solution."
Genesis has brought many successful real-money online games into a packaged bundle with a simple "per game" subscription model -- bypassing often difficult revenue sharing formulas in the social gaming space and leaving more upside for Social Casino partners.
"We are offering a package that will make it easy for a social casino to expand its games portfolio," said Baldy Rakhra, Director of Social Casino Business Development. "We recognize the value of proven content for customer acquisition and retention, and our proven real-money games from regulated jurisdictions in Europe are best positioned to provide our Social Casino partners with revenue growth and profitability."
Integration for a Social Casino has never been easier, and Genesis provides the technical flexibility required. The catalog offering features both Flash and HTML5 content, and options are available for native clients on IOS/Android.
About Genesis Gaming
As a key supplier of slot content to the most prominent manufacturers and operators in the casino gaming industry, Genesis Gaming has built its reputation on providing casino gaming content that maximizes revenue for our customers. With over 150 video slot games produced, Genesis has world-class game designers and develops games for all digital platforms whether they are land-based, online or mobile, and for real-money or social gaming play. More information on Genesis can be found on http://www.gen-game.com.