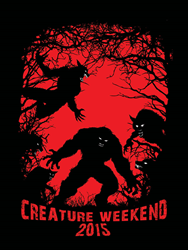 "Absolutely LOVED Creature Weekend! Had a blast guys, thanks so much … for putting together such a great event! I will definitely be there next year…" – Shannon LeGro, Creature Weekend Attendee
Cambridge, OH (PRWEB) April 22, 2015
Kentucky native, Jeremy Bates, joins fellow "Monsters Underground" cast member, Bill Brock at Creature Weekend 2015 to be held at Salt Fork State Park on May 2, 2015.
Jeremy Bates turned to professional boxing in 1999 and postponed his retirement to fight Evander Holyfield in 2006. He came out of retirement to fight Guillermo Jones, Andrew Golota, Odlanier Solis, Kevin Rainey, and Kali Meehan. Jeremy retired from boxing with a record of 23 wins, 17 losses and 1 draw, with 19 wins by knockout.
In 2008, Jeremy made his professional wrestling debut in Ashland, KY at Ohio Championship Wrestling's November Reign where he defeated Vinnie Viagara. Jeremy then went on to defeat "The Driller" Eddie Browning on December 13 at OCW's Season's Beatings. Jeremy picked up his third win in 2009 at the New Year's Bash by defeating NWA All-Star Wrestling Heavyweight Champion "Pretty Boy" Stan Lee.
Jeremy is currently training to fight in the Ultimate Fighting Championship. His progress can be followed on YouTube in a series entitled "Being the Beast".
Jeremy also starred in the reality show "Monsters Underground" with Bill Brock. "Monsters Underground" airs on the Destination America channel and follows the exploits of our hosts as they explore dangerous caves and dark underground labyrinths in search of cryptids.
Jeremy will be available for photo opportunities and autograph signing at Creature Weekend 2015 on May 2, 2015. For more information go to http://www.creatureweekend.com.
About Creature Weekend: Creature Weekend is the nation's largest annual Cryptozoology Conference held in Cambridge, Ohio. Each year, speakers from a cross-section of the field of Cryptozoology give presentations on various cryptids including Bigfoot, Yeti, Dogmen, and other creatures which defy science and the imagination. Creature Weekend 2015 will be held on May 1-3, 2015 at Salt Fork State Park in Cambridge, OH. Discounted Conference Tickets are available online while they last. For more information and a complete schedule of events, please visit http://www.creatureweekend.com/ or email martin(at)creatureweekend(dot)com or call 740-888-1313.