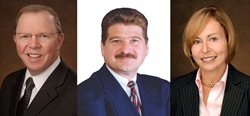 The U.S. economy entered 2015 with strong positive momentum. Businesses are more optimistic than they have been since 2007, anticipating strong sales growth. -Ken McCarthy, C&W
San Francisco, CA (PRWEB) April 21, 2015
The economic environment over the next three years will be the best for the office real estate sector in more than a decade, according to Cushman & Wakefield's 2015-2017 U.S. Office Review & Forecast, released today. In fact, the commercial real estate services firm anticipates that the combination of rising employment and total income, strong consumer spending and business investment growth will likely lead to strong demand across all property types.
"The U.S. economy entered 2015 with strong positive momentum," noted Cushman & Wakefield's Ken McCarthy, senior managing director, research. "Businesses are more optimistic than they have been since 2007, anticipating strong sales growth. As their focus shifts from concerns about costs, to growing top line revenue, businesses are hiring more aggressively."
The U.S. office market ended 2014 on solid footing and is poised for even stronger growth through 2017. A relatively limited construction pipeline and tenant demand for modern space translated into a lack of quality space in several markets, tipping the scales back in favor of the landlord. Some market indicators ended the year at levels not seen since the recession.
According to the Cushman & Wakefield U.S. Office Review & Forecast:

Although the occupier trend toward efficiencies is expected to continue, with fewer square footage allocated per employee, job growth will be strong enough to drive down vacancies.
Absorption over the next three years is forecast to total 175 million square feet, which is more than the past eight years combined.
Through 2017, 131 million square feet of new supply is anticipated, hitting annual growth rates not seen since 2008. While older-generation office buildings sit empty in many markets across the country, occupiers' appetites for new or completely rehabbed properties show no signs of abating. Not only are occupiers seeking efficiencies that only new or renovated space can provide, but they are using this space as a tool to enhance their brands, and thus attract and retain a pool of young talent.
Average asking rent growth in the United States is expected to come in at just under 5.0 percent in 2015 and 2016, and 3.6 percent in 2017, well above the 10-year average of 2.8 percent. Markets expected to experience double-digit annual rent growth at least once over the forecast horizon include Boston, Seattle and Silicon Valley.
CITIES VS. SUBURBS
Occupiers continue to flock to the urban cores across the U.S., with talent attraction and retention their top priorities. "The millennial population, in particular, has demonstrated its preference for an urban environment in all facets of their lives," said John Santora, CEO, North America, Cushman & Wakefield. "Working, living and playing have become a more seamless experience for this generation, which continues to enter, and will soon dominate, the labor market."
Unsurprisingly then, the nation's CBD markets are performing better than their non-CBD counterparts by nearly every measure. Yet while the exodus of businesses and residents alike from the suburbs to the urban core has been well-documented, many non-CBD markets across the country are thriving and are expected to continue to do so over the next several years.
"While it is true that the auto-centric suburban office park with few amenities has fallen out of favor with tenants, properties along transit lines outside of traditional downtown areas continue to attract occupiers," said Maria T. Sicola, Cushman & Wakefield's head of Research for the Americas. "The best-positioned suburban properties are those that offer an 'urban' feel, offering a mix of office, retail, residential and recreational space."
According to the Cushman & Wakefield report, most market indicators will be at or close to their pre-recession levels by 2017. "Growth in occupied space will continue to be muted somewhat by the large-scale trend of tenants taking less space," Sicola explained. "Still, the removal of antiquated properties to other uses will keep vacancy rates in check even as more and more construction completes. As occupiers and investors adjust to this new 'normal,' we expect more markets to return to equilibrium, well ahead of the next cycle."
In addition to covering market fundamentals and trends, the 2015-2017 U.S. Office Review & Forecast offers rankings of top CBD and non-CBD markets according to vacancy rate declines, rent increases and absorption, along with three-year vacancy and rental rate forecasts for major markets nationwide. The full report can be accessed at http://www.cushmanwakefield.us/en/research-and-insight/2015/2015-2017-us-office-overview-and-forecast/.
Cushman & Wakefield Research for the Americas is recognized worldwide for the originality of its research and the value of its thought leadership. The team collects data from an array of publicly available sources, owners, agents and most importantly, from the firm's brokers, appraisers and property managers. Cushman & Wakefield's 228 research professionals track more than 26 billion square feet in 170 office and industrial markets worldwide. Senior research personnel use proprietary as well as secondary data to produce reports on topics affecting the real estate industry.
###