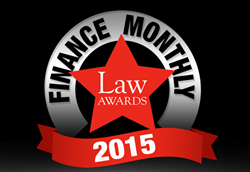 "It is an accolade to be nominated and an honour to be the recipient of such a prestigious award, recognising Alliott Group as the Accountancy & Law Alliance of the Year in the Global Market 2015" commented James Hickey CEO Alliott Group
London, England (PRWEB UK) 22 April 2015
Alliott Group are pleased to announce that they have not only been nominated but have also won the prestigious Finance Monthly Law Award for Accountancy & Law Alliance of the Year in the Global Market 2015.
Returning for another year in Celebrating Excellence and Success the Finance Monthly Law Awards bring together law firms and legal professionals from all over the world under one publication to celebrate their successes. The annual awards honour both firms and individuals for innovation in their specific yet wide-ranging legal fields.
The honourees drive the industry by coupling client focus with unparalleled knowledge. Their work is done on a global scale. With a readership that spans every continent, Finance Monthly offers an international showcase for international work.
Finance Monthly's lengthy research process involved many months of company feedback and professional consultation. As a result the Awards compile a selection of winners who are both sought after by the public and respected by their colleagues. A full range of international, boutique, niche, and full service firms are recognised. Together they provide a glimpse into the amount of variety and professional excellence within the industry.
"It is an accolade to be nominated and an honour to be the recipient of such a prestigious award, recognising Alliott Group as the Accountancy & Law Alliance of the Year in the Global Market 2015" commented James Hickey