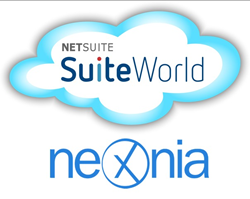 We're passionate about creating new features and configurations for our NetSuite customers, and we're excited to show off what we can do in San Jose!
Toronto, Ontario (PRWEB) April 22, 2015
Nexonia Inc., a leading provider of web and mobile time and financial management solutions, today announced its sponsorship of SuiteWorld 2015, NetSuite's annual user conference for customers, partners, and industry luminaries, being held May 4-7 in San Jose, Calif. NetSuite is the industry's leading provider of cloud-based financials / ERP and omnichannel commerce software suites. NetSuite's SuiteWorld 2015 conference is slated to be the largest-ever gathering of the fast-growing NetSuite community, with an expected 7,200 attendees coming together to inspire, connect with one another and to share best practices for getting the most out of the world's leading cloud-based business management suite and transforming their businesses.
"SuiteWorld 2015 represents the largest gathering of NetSuite professionals ever, making this a great opportunity for potential customers and partners to explore Nexonia's leading expense and time management solutions," says Neil Wainwright, CEO of Nexonia Inc. "We're passionate about creating new features and configurations for our NetSuite customers, and we're excited to show off what we can do in San Jose!"
Nexonia's Expenses, Accounts Payable, Timesheets, Time Off, Time Allocation and Purchase Orders solutions all offer unlimited features and smooth NetSuite two-way integration. Each of Nexonia's highly-configurable products will be showcased at SuiteWorld 2015, including the latest product –Nexonia Accounts Payable – built specifically with NetSuite customers in mind.
To learn more, visit the Nexonia team at booth #213 in the SuiteWorld Expo at the San Jose Convention Center.
About SuiteWorld 2015
SuiteWorld is NetSuite's annual conference, being held at the San Jose Convention Center in San Jose, Calif. on May 4-7 for customers, users, partners, developers, media and industry analysts. Attendees of SuiteWorld join the full strength of the NetSuite ecosystem to learn and explore, network face-to-face, and help shape the next evolution of cloud computing services.
Today, approximately 24,000 companies and subsidiaries depend on NetSuite to run complex, mission-critical business processes globally in the cloud. Since its inception in 1998, NetSuite has established itself as the leading provider of enterprise-class cloud ERP suites for divisions of large enterprises and mid-sized organizations seeking to upgrade their antiquated client/server ERP systems. NetSuite continues its success in delivering the best cloud ERP/financial suites to businesses around the world, enabling them to lower IT costs significantly while increasing productivity, as the global adoption of the cloud accelerates.
For more information about SuiteWorld and how to receive a free pass, please visit http://www.netsuitesuiteworld.com.
To join the SuiteWorld conversation on Twitter, please use #NSW15.
About Nexonia:
Nexonia Inc. is a provider of leading web and mobile time and financial solutions, including Nexonia Expenses, Nexonia Timesheets, Nexonia Time Off, Nexonia Time Allocation, Nexonia Purchase Orders, Nexonia Accounts Payable. Nexonia's simple-to-use and highly customizable applications are fully integrated with ERPs, credit cards and other systems supporting a variety of businesses. Nexonia solutions are designed to streamline the reporting and approval process, improve human resource management and enhance operational efficiency.
To receive more information, visit http://www.nexonia.com or call 800-291-4829.
###
NOTE: NetSuite and the NetSuite logo are registered service marks of NetSuite Inc.