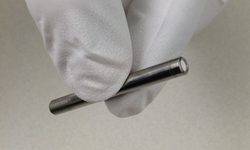 We believe there is an important unmet medical need related to the long term delivery of certain drugs including diabetes peptides, and we are currently pursuing a variety of products in diabetes and other areas
SAN FRANCISCO, CA (PRWEB) April 23, 2015
Delpor, Inc. (Delpor), a biotechnology company focused on drug delivery, today announced that the United States Patent and Trademark Office has issued 2 new patents based on the Company's NANOPOR™ technology. US Pat. No. 8,986,727 was issued on March 24, 2015 and covers Delpor's microfabricated drug delivery device for the sustained release of therapeutic agents. The device uses Delpor's proprietary NANOPOR™ technology for the sustained (zero-order) release of large and small molecules for several months after subcutaneous implantation. US Pat. No. 9,005,650 was issued on April 14, 2015 and covers a method to deliver a therapeutic agent in a substantially zero-order rate for several weeks to 6 months. Delpor has exclusive rights to the patented technology and has several product candidates in development, including 3-6 month formulations of exenatide, liraglutide, and basal insulin.
Numerous therapeutic agents including GLP-1 analogues, basal insulin, human growth hormone, and interferon-alpha can benefit from long-term sustained delivery. The benefits of such delivery include improved safety, efficacy, medication adherence, as well as patient convenience in cases where frequent subcutaneous injections are required. Delpor's unique technology is able to achieve steady (zero-order) release of agents for several months through passive diffusion (i.e., without using an osmotic pump, or any mechanical parts inside the device). A nanopore membrane, fabricated to include pores of precise dimensions, is used to control the rate of diffusion and provide a zero-order rate of release of the substance.
"These two new patents further strengthen Delpor's intellectual property position in this key area" said Tassos Nicolaou, President and CEO of Delpor. "We believe there is an important unmet medical need related to the long term delivery of certain drugs including diabetes peptides, and we are currently pursuing a variety of products in diabetes and other areas. Our NANOPOR™ technology enables the sustained release of drugs without using any mechanical parts inside the device. Such a system simplifies the manufacturing process, and allows us to substantially reduce the size of the device."
About Delpor, Inc.
Delpor develops the next generation Drug Delivery Systems that improve the clinical and commercial value of drugs and biopharmaceuticals. The company's technologies enable the sustained release of drugs through a small non-mechanical subcutaneous implant device. The device is implanted during a 10 minute, simple, in-office, procedure using local anesthetic. Delpor's device can deliver small & large molecules within a predefined therapeutic window over several months while maintaining zero-order release pharmacokinetics. Delpor is focusing on the delivery of antipsychotics as well as biologics in order to improve medication adherence, tolerance, safety, and convenience. The company's product candidates include 3-6 month formulations of exenatide, risperidone, liraglutide, and basal insulin. Additional information about the company can be found at http://www.delpor.com.
Forward-Looking Statements
To the extent any statements made in this release contain information that is not historical, these statements are essentially forward-looking and are subject to risks and uncertainties, including the difficulty of predicting FDA approvals, acceptance and demand for new pharmaceutical products, the impact of competitive products and pricing, new product development and launch, reliance on key strategic alliances, availability of raw materials, availability of additional intellectual property rights, availability of future financing sources, the regulatory environment and other risks the Company may identify from time to time in the future.
Contacts
Delpor, Inc.
Tassos Nicolaou, President and CEO
Phone: 415-480-6873
Fax: 415-480-6871