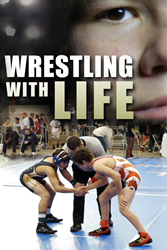 New York, NY (PRWEB) April 23, 2015
"Wrestling With Life" debuted April 21st on iTunes and will launch everywhere on demand this week including: Vimeo On Demand, Amazon Instant Video, Google Play, Vudu, Xbox Video, and Sony Playstation.
After losing his twin brother to cancer, David Nowick struggled to understand his brother's dying legacy. David was forced with the challenge to run his brother's wrestling school, the Mile High Wrestling Club. While walking the fine line between winning and personal growth, along the way, David discovered the unique life path that wrestlers all around the world followed - to develop not only physical and mental toughness, but also a previously undefined "spiritual toughness."
"Having wrestled growing up, Christopher's gripping depiction of one of the world's most elite sports immediately resonated with me," said Candy Factory Films' Head of Content Michael Ben Lawson. "We're looking forward to sharing this inspirational documentary with digital audiences everywhere this Spring."
ADDITIONAL INFORMATION:
Release Date: Tuesday, April 21
VOD Platforms: iTunes, Vimeo on Demand, Amazon Instant Video, Google Play, Sony Playstation, and Vudu.
Click Here to View the Trailer
Directed by: Chris Bohlender
Written & Produced by: David Nowick
Running Time: 80 Minutes
Rating: Not Rated
WRESTLING WITH LIFE on Facebook
WRESTLING WITH LIFE Website
Please Note: Filmmakers David Nowick and Christopher Bohlender are available for interviews and screeners are available for review.
To request a screener or to schedule an interview, please contact:
Michael Ben Lawson || Candy Factory Films
michael(at)candyfactoryfilms(dot)com
908-868-1922
About Candy Factory Films
Candy Factory Films is dedicated to producing and distributing high impact films and fostering communities around independent cinema. Candy Factory Films is a filmmaker-friendly multimedia distribution and production company committed to keeping with the best interests of our clients. We embrace emerging distribution and social media trends to successfully promote films and incentivize project-specific audiences. We promise individualized services and customized experiences to increase overall exposure. We pride ourselves on our inventive methods for filmmaking success. Connect with Candy Factory Films at http://www.CandyFactoryFilms.com and @CandyFactory411.