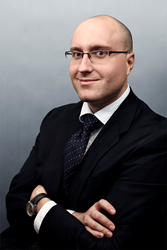 "We were asked to participate as a result of our growth profile in the USA and excellent relationship with U.S. partner carriers and customers. It's an honour to contribute and learn from the who's who of the industry in attendance at the summit.
Chicago, IL (PRWEB) April 24, 2015
Polaris Transportation Group is proud to be represented by Jon Saunders, their Vice-President Finance, at the upcoming summit to be held June 16-18, 2015 in Chicago. This meeting of minds is a premier event in the transportation and logistics industry.
Over 600 C-Level executives are expected to attend the annual summit. There will be 30 individual sessions, workshops and break-out discussions for 3PLs, carriers and shippers. The Annual 3PL Summit and CSCO is promoted as a one of a kind networking opportunity for all. President Larry Cox states, "We are extremely pleased to be invited to speak at this event. Jon has a wealth of knowledge and a particular expertise in merger and acquisition strategy to share."
Mr. Saunders will participate in two sessions: "Driving Growth in Mid-Sized Logistics Companies" and "The Logistics Service Provider Mid-Market Community". Saunders explains, "We were asked to participate as a result of our growth profile in the USA and excellent relationship with U.S. partner carriers and customers. It's an honour to contribute and learn from the who's who of the industry in attendance at the summit. We encourage all those interested to register at http://www.3PLSummit.com"
______________________________________________________________________________________
Founded in 1994, Polaris Transportation is best known for its scheduled LTL service between Canada and the USA. Specializing in the shipment of dry goods, Polaris continues to make life easier for the shipping community by adding additional service and technology advancements. For more information on Polaris visit their website at http://www.polaristransport.com