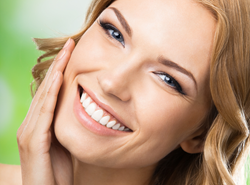 "Patients have the opportunity to have a bright and beautiful smile that lasts the rest of their lives, thanks to KöR® Whitening." - Dr. Jeffrey Emmi
Wilmington, DE (PRWEB) April 23, 2015
Dr. Jeffrey Emmi and Dr. Laura A. Dougherty are pleased to announce that they now offer KöR® Whitening at Smile Solutions by Emmi Dental Associates. This professional teeth whitening system offers excellent results when used to address dental stains and tooth discoloration.
"KöR® Whitening is one of the finest teeth whitening systems out there," Dr. Emmi said. "It's very effective for many situations that simple light-enhanced bleaching systems can't correct."
About KöR® Whitening
Developed by Dr. Rod Kurthy, KöR® Whitening is an advanced professional teeth whitening system that addresses tooth discoloration and dental stains. It uses a combination of in-office supervision, at-home care, and periodic maintenance to help patients achieve the brightest, whitest smiles possible.
How KöR® Whitening Works
During KöR® Whitening treatment, Dr. Emmi will take impression of his patient's teeth. From these impressions, customized dental trays will be crafted. Once created, the trays are filled with a proprietary whitening gel that helps the teeth absorb more oxygen, allowing the gel to bleach even very deep stains in the tooth structure.
The initial KöR® Whitening treatment will take place over the course of two to three weeks, with patients wearing trays and using the bleaching gel as instructed. KöR® Whitening patients can also perform periodic touch-up treatments, allowing the results of KöR® Whitening to last for years.
"Patients have the opportunity to have a bright and beautiful smile that lasts the rest of their lives, thanks to KöR® Whitening," Dr. Emmi said.
The Effectiveness of KöR® Whitening
KöR® Whitening allows dentists to treat even the deepest-set dental stains, providing exceptional cosmetic dentistry results. KöR® Whitening can make extrinsic stains from coffee and tobacco products disappear, and it can also address deep-set stains caused by tetracycline use.
Since touch ups are common in the years following treatment, patients can still drink coffee, tea, and red wine, though they should moderate consumption of these beverages. KöR® Whitening touch-up treatments will reduce the appearance of these minor stains.
KöR® Whitening Reduces Tooth Sensitivity after Treatment
Tooth sensitivity is a common side effect of teeth whitening, and though temporary, it can be quite uncomfortable. In the creation of the KöR® Whitening gel, Dr. Kurthy was able to greatly reduce the amount of sensitivity that patients experienced. Patients who undergo KöR® Whitening tend to notice very little sensitivity, and often no sensitivity at all.
"It's estimated that only 10 percent of the tooth sensitivity from other systems will be experienced when people undergo KöR® Whitening," Dr. Emmi said. He added, "This level of comfort and effectiveness allows us to brighten patient's smiles from their teenage years well into their golden years."
How KöR® Whitening Compares to Other Professional Teeth Whitening Systems
The KöR® Whitening system is one of the leading teeth whitening options available today. KöR® Whitening is far more powerful than the over-the-counter dental bleaching products that you can purchase at your local store. Even the most sophisticated tray systems simply do not compare.
In fact, KöR® Whitening is sometimes more effective than other professional teeth whitening systems given the quality of the bleaching, and the ability for regular touch-up treatments to be performed with ease.
Contact Smile Solutions by Emmi Dental Associates
For additional information about KöR® Whitening, as well as other options for advanced cosmetic dentistry treatment, interested parties can contact Smile Solutions by Emmi Dental Associates. Smile Solutions by Emmi Dental Associates can also be reached directly by using the information provided below.
Smile Solutions by Emmi Dental Associates
1601 Milltown Road, Suite 25
Wilmington, Delaware 19808
(302) 999-8113
Originally posted by Jeffrey Emmi