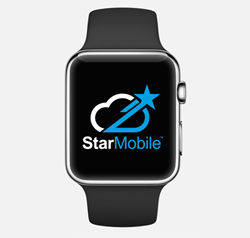 StarMobile is excited to help our customers realize the business benefits of utilizing such technology as we continue to be on the forefront of innovation for transforming traditional systems and tasks using mobile devices
Atlanta, GA (PRWEB) April 23, 2015
StarMobile®, Inc., the leading codeless, cloud-based solution that delivers enterprise mobility faster, simpler and at a lower cost than any other solution on the planet, has announced support for the Apple Watch™. The new functionality brings direct access from the Apple Watch to important features of mobile apps developed for iPhone® using the StarMobile platform, enabling users to interact with enterprise applications in new, exciting ways right from their wrist.
"StarMobile support for the Apple Watch goes well beyond simple 'remote control' of the iPhone it is paired with," said StarMobile President and CEO Todd Fryburger. "Just as StarMobile integrates with the native device capabilities of any given endpoint - smartphone, tablet or PC - our platform now leverages features inherent to the Apple Watch, bi-directionally. This allows our customers to configure a whole new class of apps for enterprise mobility supporting a variety of new use cases."
StarMobile is built on pioneering technology (five patents pending) that radically simplifies enterprise mobility by intelligently deriving the mobile app directly from the original application. Within the cloud, the solution employs a revolutionary remote computing protocol called "MORPH" to apply a series of transformations in real-time to render a user experience that is native to any endpoint, whether that is smartphone, tablet, PC or watch.
"The use of Apple Watch and other wearables in the enterprise presents a new frontier." Fryburger added, "StarMobile is excited to help our customers realize the business benefits of utilizing such technology as we continue to be on the forefront of innovation for transforming traditional systems and tasks using mobile devices."
StarMobile was recently named a "Cool Vendor in Mobile App Development, 2015" by Gartner.
For more information or to get started with a Free Trial, visit https://starmobileinc.com or follow us on twitter @StarMobileInc.
About StarMobile
StarMobile is a codeless, cloud-based solution that delivers enterprise mobility faster, simpler and at a lower cost than any other approach. Companies use StarMobile to dynamically transform any packaged on-premises or cloud-based application, or custom-built system, into a mobile application. StarMobile requires no changes to existing applications, no coding, no need for exotic skills or learning a new platform, no professional services, no re-building, simple configuration, low maintenance, no re-licensing, no app-specific downloads, with infinite scalability, end to end security, centralized mobile app management and provisioning, and detailed usage statistics, for any application, any use case, any mobile device, on any public, private or enterprise cloud platform. https://starmobileinc.com