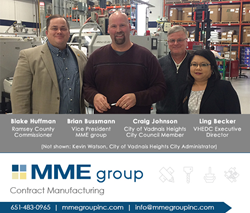 This company is a tremendous asset to Ramsey County and the City of Vadnais Heights.
St. Paul, MN (PRWEB) April 22, 2015
Commissioner Huffman along with the City of Vadnais Heights City Administrator Kevin Watson, City of Vadnais Heights City Council Member Craig Johnson, and Vadnais Heights Economic Development Corporation (VHEDC) Executive Director Ling Becker toured the facility.
The Minnesota Department of Employment and Economic Development awarded MME group a $50,000 grant through the Minnesota Job Skills Partnership (MJSP) program. Upon learning of the award, Becker of the VHEDC, a non-profit organization established to further economic development in the City of Vadnais Heights, Minn. and surrounding areas, reached out MME group to request a tour of its facilities and learn more about the company. Partnering with Century College in White Bear Lake, Minn., MME group is using the grant to develop customized technical training for its production, engineering, quality systems and human resources employees.
"Vadnais Heights is a hub for manufacturing. We employ more than 100 people and value workforce training and professional growth. We are active in the community and a member of the VHEDC and jumped at the opportunity to showcase our talent and expertise in contract manufacturing," said Brian Bussmann, vice president at MME group.
The tour included a brief run-through of MME group's history which began in 1974 when the company started out as a toolmaking shop. As the demand on manufacturers changed and technology advanced, so did the Company. MME group now operates as a full service contract manufacturer with two locations running three shifts, 24-hours a day.
Bussmann escorted city leadership through a tour of the facility. He began by introducing the product development department; the team design and engineer parts and products. He then proceeded to the plant floor where engineering design becomes reality.
Bussmann and the group explored the plant's extensive tooling, molding and assembly operations including a tour of the Company's class 8 (100,000) clean room. MME group also features inventory management and shipping. Its Quality Management Systems include ISO 9001 and ISO 13485 certificates, and an ITAR certification.
"We are a vertically integrated manufacturer. Our in-house capabilities and supply chain management expertise help our customers take their products from concept to market. The tour helps demonstrate our servant leadership approach to successful contract manufacturing," said Bussmann.
"Small businesses like MME group are the backbone of most cities. They employ our neighbors, they stimulate countless local businesses with their purchases and they pay property taxes - which pay for a significant portion of our infrastructure. This company is a tremendous asset to Ramsey County and the City of Vadnais Heights," said County Commissioner Blake Huffman.
To learn more about MME group contract manufacturing services, visit http://www.mmegroupinc.com or call (651) 483-0965.
About MME group
MME group is a leading contract manufacturer of small to medium-sized parts and products. Services include: Full product development, tooling, molding and assembly. We provide program, quality, supply chain and inventory management.
With some of the fastest turnaround times for contract manufacturing companies in the United States, MME group's speed to market is unmatched providing you with a competitive advantage on low cost manufacturing.
MME group provides the best solutions to fit your needs with unmatched care, quality systems and technical expertise. Make MME group your contract manufacturing partner for short lead times, highest quality and cost competitiveness. Visit mmegroupinc.com.