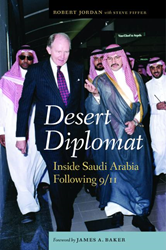 Ambassadors are part diplomat, part analyst, and part politician. And, yes, from time to time, they are part spy.
DALLAS, TEXAS (PRWEB) June 18, 2015
In his new memoir, Desert Diplomat: Inside Saudi Arabia Following 9/11 (July 1, 2015), former U.S. ambassador to Saudi Arabia, Robert W. Jordan, provides readers with a rare inside view of Saudi Arabia and the Middle East during the events following the 9/11 attacks. He reveals valuable lessons and observations that would be wise for current and future U.S. leaders to heed.
With no prior diplomatic experience, Jordan had to learn on the job how to run an embassy, deal with a foreign culture, and protect American interests, all following the most significant terrorist attacks on the United States in history.
James A. Baker III, Sixty-first U.S. Secretary of State says, "Ambassadors are the Swiss Army knives of America's diplomatic ranks. They are multitools––part diplomat, part analyst, and part politician. And, yes, from time to time, they are part spy. They must display the skills and characteristics required to confront challenging tasks, often during trying times. President George W. Bush selected exactly the right man when he formally nominated Robert W. Jordan to become U.S. ambassador to Saudi Arabia."
Desert Diplomat is a story of an ambassador sent on a mission to one of the great hot spots in U.S. history: A strategic ally that also gave us Bin Laden and the 9/11 hijackers and was suspected of funding terrorists. It is a riveting story of how Jordan used his skills and knowledge to quickly get up to speed and represent our country for 2 critical years in the opening phase of the war on terrorism that included hostilities, invasions, the negotiated release of hostages and political prisoners, and the need to address human rights in a culture resistant to change.
Saudi Arabia continues to be in the news and integral to our foreign policy. Jordan's account of the critical period following 9/11 recalls the strategic challenges we faced and continue to face in a difficult part of the world for any diplomat to manage.
Available for Pre-order online and in bookstores everywhere.
For interviews, please contact: Cindy Birne, cindy.birne(at)cindybirnepr(dot)com; or call: 214-405-8047
About the Author
Robert W. Jordan is Diplomat in Residence and adjunct professor of political science in the John G. Tower Center for Political Studies at Southern Methodist University. He served as the U.S. ambassador to Saudi Arabia from 2001 to 2003 and as a partner in the international law firm Baker Botts L.L.P. for many years where he headed Middle East practice in Dubai.
# # #