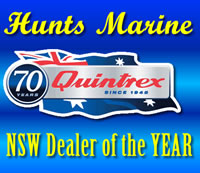 Batemans Bay, NSW (PRWEB) April 24, 2015
Hot on the heels of winning the Quintrex Boats National Dealer of the Year Award for 2014 Hunts Marine today announced that their Batemans Bay dealership has won the 2014/2015 Quintrex Boats New South Wales Dealership of the Year Award.
Managing Director Jon Hunt, in announcing the award said "Quintrex aluminium boats are amongst the most popular aluminium boats in coastal Australian waters and Hunts Marine has a proud long-term partnership with Quintrex."
Commenting further Jon said, "The entire team at Hunts Marine Batemans Bay put a lot of effort into winning this award, it means a lot to us and we are very proud of this achievement."
"It is not usual for a dealership, away from the major centres to pick up an award such as this and it is a credit to General Manager Brad Cottier and his entire team at Hunts Marine Batemans Bay, added Jon.
Brad, a 20 year member of the Hunts Marine team, moved from Sydney to Batemans Bay 4 years ago to establish the dealership said, "The real significance of this award is that it isn't just another sales award – there is a lot more to it than that. The Quintrex Award recognises excellence in sales, service, product and industry knowledge, systems and processes and community involvement. It is about the whole customer experience."
"It is an honour for Hunts Marine, an honour for my team and I and an honour for Batemans Bay. But it is an honour brought about through hard work, superior customer service and a willingness to go that extra mile for our customers," added Brad.
"To be a successful dealership, these days, you have to know customers be they recreational family boaters or fishers, they are all eager to be out on the water to maximise their leisure time. This means, for us, that many of our Canberra based customers with holiday homes at the Bay come down for a weekend's boating then leave their boat with us for service and pick it up the following Friday for another weekend on the water. It is a simple and practical service that they all appreciate," concluded Brad.
Hunts Marine is one of New South Wales oldest and most respected marine dealerships. The family business was established in 1946 and has traded continuously since that date. In addition to the original Blakehurst dealership Hunts Marine has dealerships in Batemans Bay and Wollongong. Quintrex aluminium boats are available at all dealerships.
For further details contact Jon Hunt on 02 9546 1324 or Brad Cottier on 02 4472 2612 or visit http://www.huntsmarine.com.au