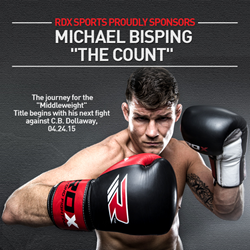 Bisping's hunt for glory has begun with RDX. Find & buy the Top-Notch MMA Equipment & Gears at RDX Sports
(PRWEB UK) 24 April 2015
RDX Sports, the renowned fight brand, proudly announces the sponsorship of Michael Bisping "The Count" as he begins his journey for the middleweight UFC title with his fight against C.B Dollaway on April 24th, 2015. Bisping, who currently ranks in at 9 in the middleweight division, claims to be in prime form for the hunt of his elusive UFC title.
Bisping has participated in 25 mixed martial arts fights so far and won 18 of them. The veteran is diligently training for the upcoming event knowing that his performance in the octagon against Dolloway at UFC 186 will define the future of his Mixed Martial Arts career.
Bisping's hunt for glory has begun with RDX. Find and buy the Top-Notch MMA Equipment & Gears at RDX Sports!