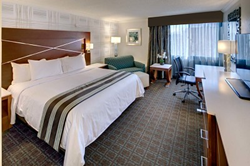 'Our team is honored to accept the award,' said Tom Ziarnik, General Manager. 'I believe we offer the best service and best amenities in Madison. We always strive to go above and beyond to ensure every guest has a memorable and enjoyable stay.'
Madison, WI (PRWEB) April 27, 2015
The DoubleTree by Hilton Hotel in Downtown Madison was recently honored with the prominent DoubleTree Pride Award from Hilton Worldwide for outstanding hotel performance in 2014.
This prestigious award is given to the top ten performing hotels out of the 312 currently operating in the Americas. The ranking is based upon results of guest surveys highlighting their loyalty as well as service and cleanliness during their stay.
"Our team is honored to accept the award," said Tom Ziarnik, General Manager. "I believe we offer the best service and best amenities in Madison. We always strive to go above and beyond to ensure every guest has a memorable and enjoyable stay."
Located at 525 West Johnson Street, the DoubleTree by Hilton Madison is situated in Downtown Madison near the University of Wisconsin-Madison, Kohl Center and State Street. The DoubleTree by Hilton provides every guest with complimentary parking and Internet, in addition to complimentary shuttle service to the Dane County Regional Airport and University of Wisconsin – Madison campus. The hotel is owned by Madison-based Neviaser Investments.