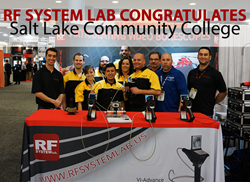 "It was great to see such a high-level of teamwork and problem solving skills from the teams in the school division... it was an exciting look into what to expect from future AMTs/AMEs." - Zack Wessels, Borescope Expert
Traverse City, MI (PRWEB) April 23, 2015
Last week's Aerospace Maintenance Competition provided an inspiring look into the future of aviation and aerospace maintenance. Fourteen teams competed in the School Division of the 2015 Aerospace Maintenance Competition (AMC), a skills-based event that took place during last week's 2015 MRO Americas.
Zack Wessels, one of RF System Lab's aviation borescope experts, was onsite at AMC for the duration of the event and was extremely impressed with the caliber of teams competing, especially the college teams. "It was great to see such a high-level of teamwork and problem solving skills from the teams in the school division... it was an exciting look into what to expect from future AMTs/AMEs," said Wessels.
RF System Lab sponsored the event and also donated a VJ-Advance video borescope to the winning college team. After a grueling two-day competition, Salt Lake Community College was crowned the winning team for the School division. In addition to earning the title of First Place Team in the School division, Salt Lake Community College took home several prizes, including the high-quality VJ-Advance articulating video borescope.
RF System Lab would like to congratulate Salt Lake Community College on their victory, as well as all the other teams who came out to compete in this year's AMC!
For more information on RF System Lab and the VJ-Advance video borescope, visit the company's website or call (855) 787-6966 to speak with a borescope expert.