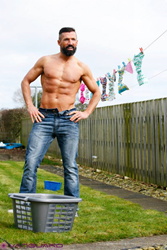 "By using unorthodox methods, we are ensuring modern nappies are seen by a wide audience." Wendy Richards RNA Director.
United Kingdom (PRWEB UK) 25 April 2015
A topless muscle man is perhaps the last thing you might associate with babies' nappies, but The Reusable Nappy Association (RNA) are choosing disruptive marketing methods to bring modern washable nappies into the limelight - and turn reusable nappy use from a fringe choice into the mainstream. With over 100,000 Facebook views and 760 shares in 24 hours it's working. http://on.fb.me/1HoKd3C
For Reusable Nappy Week, 20th to 26th April, the RNA created a viral video spoof with a twist to draw attention to the way nappies have changed since the original terries. The video, which parodies the Diet Coke "Sexy Gardener" ad, starts with the hastag #whatwomenreallywant and features a man hanging the washing observed by three ladies drinking cola. A can is thrown, the man gets drenched and takes his top off - but, is this really what women want? Have we not moved on since the gender stereotypical adverts typical of the 70s and 80s? The answer, and the twist, is that the ladies are not, in fact, oogling the topless man, but the gorgeous nappies he has been pegging on the washing line. .
Nappies, just like advertising standards (in fact, much more than advertising standards!), have moved on since the original terry nappies people may remember from their childhood. The washing line shown at the end of the video displays a range of modern cloth nappies, all with beautiful colours and patterns - no plain terry squares or pins in sight. The RNA are hoping the viral video will be shared widely and encourage new parents to look into reusable nappies. Says Siobhan Grant, who oversaw the creation of the video: "I invited a friend to help on the video shoot and after seeing how pretty the nappies were and realising that modern reusable nappies are as easy to use as disposables, my friend went on to hire a kit from her local nappy library and is loving the experience."
The RNA believes the key to making reusable nappies mainstream is having more parents see the nappies and understanding how different modern nappies are from their old-fashioned counterparts. "By using unorthodox methods, we are ensuring modern nappies are seen by a wide audience - and not just shared amongst existing users of washable nappies." Wendy Richards RNA Director.
The RNA is a collective in which reusable nappy manufacturers, nappy retailers, nappy libraries & other interested parties in the UK take the lead in creating a cultural shift to increase the use of modern cloth nappies. http://www.reusablenappyassociation.com