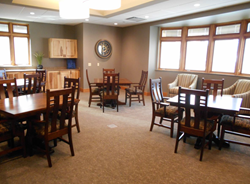 Boone, Iowa (PRWEB) April 24, 2015
Eastern Star Masonic Home is hosting an Open House to showcase the facility's new Community Room on Sunday April 26th from 1:30-3:00 pm.
Residents from Boone and the surrounding area are invited to attend the ribbon cutting and grand opening of the new community room. Light refreshments will be provided and staff will be on hand to offer tours to anyone who wishes to visit the rest of the continuing care retirement community.
The new community room will be available for use by residents of the facility as well as local organizations. In the future, Eastern Star hopes that church circles, card clubs, PEO groups, service organizations and other professional groups that are looking for a place to meet will utilize the new room.
The community room accommodates groups up to 30 people and features a brand-new 75" Smart TV, a laptop and Wi-Fi access for use during events. In addition, Eastern Star has added a sink, microwave, coffee maker and kitchen counters so that groups can more easily serve food and beverages.
Eastern Star Masonic Home is a continuing care retirement community serving the seniors of Boone, Iowa and the surrounding area. Eastern Star offers a number of senior care living options including independent living, residential care, assisted living, skilled nursing, and care for patients suffering form Alzheimer's and Dementia. To learn more about Eastern Star Masonic Home, visit the company's website at http://www.iowaoeshome.com or call (515) 432-5274.