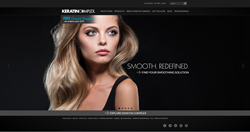 "The new site allows us to connect with consumers while providing enhanced support for distributors, salons and stylists," said Lindsay Solomon, VP of Marketing at Keratin Complex.
Boca Raton, Florida (PRWEB) April 23, 2015
Innovative hair care brand, Keratin Complex, today announced the launch of a new, redesigned version of its website, http://www.keratincomplex.com. Key enhancements to the website include a sleek and more attractive design, engaging user interface with updated search and navigation functions, detailed product information, new interactive features and simplified shopping capabilities.
"The new site allows us to connect with consumers while providing enhanced support for distributors, salons and stylists. Updated features, tools and navigation functions help to create an engaging experience for both the consumer and professional," said Lindsay Solomon, VP of Marketing and PR at Keratin Complex.
To provide the ultimate user-friendly experience, improvements to the website include:

New design – the fresh, responsive design features new imagery, product photography, videos and content.
Clean User Interface – this allows visitors to easily access detailed product information, create an account, purchase products and connect with the brand through tips, behind-the-scenes looks and more.
Hair Concierge – consumers can now find the perfect hair regimen from shampoos to styling products specifically formulated for their hair type and habits through an interactive questionnaire.
Inside Access – visitors to the website can stay tuned for exciting behind-the-scenes looks at Keratin Complex events, news and blog posts such as Stylist Diary where Fashion Week, beauty tips and trends, photoshoots and more are featured.
Optimized Platform – custom-built on an e-commerce platform with a content management system will mean consumers can look forward to upcoming blogs, videos and more to keep them up-to-date on hair industry trends, brand news and more.
Professional assets – improved login-only section for professionals provides easy access to marketing collateral, current campaigns, training manuals and videos available for instant download.
The site's refreshed and modernized look, combined with enriched content, improved search functionality, and optimization for mobile devices allows consumers to better interact with Keratin Complex online.
"We are excited to offer an interactive website experience that connects users with engaging, informative content and helps them find the best products and tools to achieve smooth, healthy looking hair," said Amy Phillips, Editorial Director at Keratin Complex.
For more information or to learn more about the new website, please visit http://www.keratincomplex.com.
About Keratin Complex
Since the launch of its signature Smoothing Therapy in 2007, Keratin Complex has become the market leader in the smoothing category and has revolutionized the color industry with Color Therapy, a complete keratin-enhanced hair color collection. The Boca Raton, Fla.-based company continues to develop breakthroughs in keratin technology with the expansion of its professional and retail collections, along with new programs and services that build brand partnerships and enhance salon business. For more information, please call 888.409.4445 or visit http://www.keratincomplex.com.