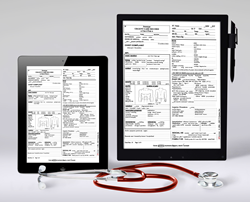 T Sheets Digital was thoughtfully designed by both clinical and coding experts to meet market demands such as ICD-10 and shifts in how patients are seeking care.
Chicago (PRWEB) April 27, 2015
The $15.8 billion urgent care industry is expected to grow 6 to 8 percent annually through the opening of new clinics and a spike in patient volumes, and new technology is necessary to support this rapidly growing market segment. T-System debuted T Sheets® Digital for Urgent Care today at the Urgent Care Association of America's (UCAOA) Spring Conference (booth #106), a new solution designed to empower urgent care centers to improve throughput, streamline processes and optimize reimbursement. T Sheets Digital quickly, accurately and effectively captures the unique clinical encounters of an urgent care setting and is T-System's next generation of T Sheets, the gold standard in episodic care documentation.
Available either on a tablet such as the iPad or on Sony Digital Paper, T Sheets Digital features chief complaint-based templates for more than 45 presenting complaints which improve patient care and clinician productivity. T Sheets Digital is more efficient than paper-based documentation and an affordable option for urgent care centers that want the benefits of digital documentation but without the price and implementation requirements of a full Electronic Health Record (EHR) system. It also optimizes reimbursement and cash flow by providing a complete and accurate medical record that is available in a secure and HIPAA-compliant online location for immediate and optimal coding and billing after the visit.
"This new technology demonstrates T-System's commitment to continued clinical innovation," said Mark Horner, senior vice president and group general manager of clinical solutions for T-System. "T Sheets Digital was thoughtfully designed by both clinical and coding experts to meet market demands such as ICD-10 and shifts in how patients are seeking care."
With clinical content and workflow specifically for the urgent care setting, the templates are paired with T-System's signature, easy-to-use circle-and-backslash documentation method that expedites the documentation process. All templates are regularly vetted for compliance, clinical and regulatory changes in order to ensure the most accurate and complete medical record possible.
"T Sheets Digital is equally as beneficial for clinicians at the point of care as it is for staff who oversee charge capture and coding," said Robin Shannon, vice president and general manager of documentation solutions for T-System. "A study conducted by AAPC Client Services showed that only 56 percent of urgent care physicians have the documentation to support the switch to ICD-10. With T Sheets Digital, clinicians don't have to remember a long list of codes and coders aren't trying to track down physicians to find out what happened during the clinical encounter; everything needed to achieve the most specific ICD-10 code possible and avoid delayed or denied claims is embedded within the T Sheet."
For urgent care centers seeking to transition from paper to digital documentation, T Sheets Digital is an affordable solution. Available now on Sony's Digital Paper device, and as a browser-based web application compatible with the iPad, clinicians can submit completed T Sheets for coding and billing in real time, streamlining the overall process by removing time and resource-consuming manual printing, stocking and scanning required with paper documentation.
For more information on T Sheets Digital, or to be connected with a T-System sales representative, please visit http://www.tsystem.com, call (972) 503-8899, or stop by UCAOA conference booth #106 today through Wednesday.
About T-System
T-System Inc. advances the practice of emergency medicine with solutions proven to solve clinical, financial, operational and regulatory challenges for hospitals and urgent care clinics. About 40 percent of the nation's EDs use T-System solutions to provide an unmatched patient experience. Through gold-standard documentation, revenue cycle management and performance-enhancing solutions, T-System optimizes care delivery from the front door through discharge and beyond. Today, more than 1,900 facilities across all 50 states rely on T-System solutions.