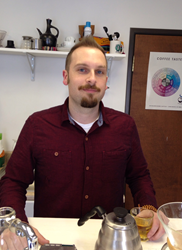 As a key member of our innovation team, Brandon is continually expanding his knowledge of specialty coffee and tea.
(PRWEB) April 24, 2015
Brandon Bir, a coffee and training specialist for Ohio coffee roaster Crimson Cup Coffee & Tea, has earned Level 1 and 2 certification from the Specialty Tea Institute.
"We're extremely proud of Brandon!" said Greg Ubert, founder and president. "As a key member of our innovation team, he is continually expanding his knowledge of specialty coffee and tea."
The STI certification program is designed to increase understanding of tea varieties, brewing methods, and the botany of the tea plant, camellia sinensis. It also develops skills in tea preparation, blending, cupping and sensory evaluation.
"Using his growing expertise, Brandon will help Crimson Cup identify more great teas for our customers," Ubert said.
To prepare for Level 1 certification, Bir completed courses covering the five basic tea types – white, green, black, oolong and pu'-erh – and the orthodox tea production styles used to create them. In addition to cupping and tasting teas, topics also included essential components of teas, where and how teas are grown, the stages of processing and what differentiates different types and classifications of tea.
Level 2 certification courses covered tea production and manufacture, as well as blending, flavoring and scenting teas. Classes also included introductions to sensory evaluation of teas and the principles of grading and naming teas by country of origin.
Bir earned the certifications by passing exams at the 27th Annual Exposition of the Specialty Coffee Association, held April 9-12 at the Washington State Convention Center in Seattle.
As part of Crimson Cup's Seven Steps to Success program, Bir works with independent coffee houses, restaurants, food service operations and colleges and universities that serve Crimson Cup beverages.
The Seven Steps form the basis of Crimson Cup's coffee shop franchise alternative program, which has helped more than 250 independent coffee shops in 29 states start and maintain successful businesses. Based on Ubert's book, Seven Steps to Success in the Specialty Coffee Industry, the program teaches prospective coffee house owners and their staff everything they need to run a profitable coffee house or café.
"We offer all of the benefits of a coffee shop franchise, with none of the fees, royalties or business restrictions," Ubert said. "We're a true partner in the success of each coffee shop, and we don't dictate how independent owners run their businesses."
Available to all Crimson Cup wholesale customers, the Seven Steps program offers comprehensive training on every aspect of operating a coffee shop – from choosing a location and writing a business plan to store layout, equipment selection and more. In addition to training, customers receive ongoing support in marketing and operations.
Ubert noted that specialty tea presents a growing opportunity for many independent coffee houses and restaurants. "On any given day, more than 160 million Americans are drinking tea," he said. "Savvy coffee business owners cater to this audience."
Crimson Cup introduced its line of premium loose-leaf teas in 2012. Currently, the company offers more than a dozen varieties of conventional, herbal and Rooibos infusions, available as bulk tea or in loose-leaf sachets.
About Crimson Cup Coffee & Tea
Since 1991, Crimson Cup Coffee & Tea has hand-roasted specialty coffee in Columbus, Ohio and taught independent business owners how to be successful through its coffee shop franchise alternative program, which includes a coffee shop business plan template. Sustainably sourced Crimson Cup coffee is available through a network of more than 350 independent coffee houses, grocers, college and universities, restaurants and food service operations across 29 states, as well as the company's own Crimson Cup Coffee House in the Columbus suburb of Clintonville. For more information, visit crimsoncup.com.