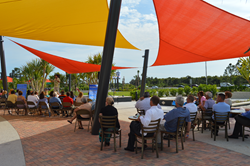 "It was a great event and you could tell everyone had a fun time!"
Fort Myers, FL (PRWEB) April 25, 2015
Last week AdvantaIRA Trust held a client appreciation and networking event at the new Six Bends Harley Davidson. The event was well attended by AdvantaIRA clients and local investors and included a performance by a nationally known comedian, live music, and food from a local food truck.
The self-directed IRA administrator and 1031 exchange qualified intermediary, headquartered in Fort Myers, held an evening of celebration. Using a self-directed IRA or 1031 exchange, clients and investors are able to gain freedom from taxes, which is a great reason to celebrate. The event had more than 100 clients and investors in attendance. "It was a great event and you could tell everyone had a fun time," says Dave Owens, managing partner of AdvantaIRA Trust.
Comedian Ted Holum, featured on The Tonight Show, was the headliner at the event. The comedian can be seen performing all over the country as well as in other countries on cruise ships. Briz and Lady, a local husband and wife duo, played live acoustic music throughout the evening. The duo played a diverse genre of music to appeal to all ages. Guests enjoyed food from the BurgerQue food truck, which included burgers and barbeque. The local truck dished out great food throughout the event while attendees enjoyed live music and networking. There was also a selection of cookies, beer, and wine that was available throughout the celebration.
Clients got to join in on the fun at no cost. There was also a 50/50 raffle and a drawing for a riding academy package, which was donated by Six Bends Harley Davidson. All proceeds from the 50/50 and drawing are being donated to a local charity. The event went so well that the self-directed IRA administrator will be planning another one next year. AdvantaIRA also holds many other events throughout the year which can be found by visiting www(dot)AdvantaIRA(dot)com under events.
About AdvantaIRA Trust
AdvantaIRA Trust is a self-directed IRA administrator that provides tax-deferred and tax-free investment opportunities, superior customer service, and educational tools to assist investors in realizing the maximum benefits possible within IRAs. AdvantaIRA makes it easy to use self-directed retirement plans to invest in assets that the individual investor knows, understands, and can control.
About Dave Owens
Dave Owens is the managing partner at AdvantaIRA Trust in Fort Myers, Miami, Gainesville, New England, and the Florida Panhandle. Owens opened the AdvantaIRA Trust headquarters in Fort Myers, FL in 2003. His background as a certified public accountant, combined with a long history of personal retirement self-direction, provides his audiences and clients with solid advice and practical solutions to their IRA investment questions. Dave holds a BS in accounting from Purdue University. He also earned the prestigious Certified Exchange Specialist designation through the Federation of Exchange Accommodators.