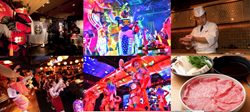 Tokyo, Japan (PRWEB) April 28, 2015
BOJ, Inc., operator of the portal website, Beauty Of Japan (http://www.beautyofjapan.jp), now offers foreign visitors exclusive dinner packages at Robot Restaurant and unique cultural experience programs. BOJ also sells prepaid SIM cards for travelers to Japan that come with a discount plan of up to 7,000 yen. The SIM cards are available at http://prepaid-sim-japan.com.
About the Robot Restaurant Package Deals:
Exclusive deals include the dinner package, cultural experience package, and dinner and cultural experience package. These have been made possible through cooperation with Robot Restaurant and BOJ's network of restaurants and unique experiences.
The dinner package allows travelers to select a menu and price, then reserve a table from those available on Beauty Of Japan's website prior to flying to Japan, eliminating rush or confusion in finding restaurants and ordering meals.
The unique cultural experience programs include cooking classes using seasonal ingredients, walking tours or dinners with sumo wrestlers, and a harvest and BBQ experience in Tokyo.
BOJ also offers special deals with the purchase of a BOJ mobile prepaid SIM card, which allows travelers to use mobile data communication while they are in Japan and contains a value worth more than the purchase price. The deal offers a discount of 2,000 yen per person for the Robot Restaurant entrance ticket for up to three people.* In addition, it comes with a discount of 1,000 yen per group that can be used for the cultural experience programs offered on Beauty of Japan.**

The promotion cannot be used in conjunction with any other offer.
** The discount is only available when the total amount of programs is over 10,000 yen.