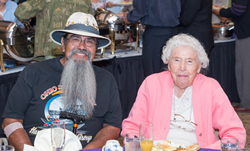 I'm truly thankful for what our volunteers do to help us fulfill our mission of championing healthy living, research and superior health care.
Surprise, AZ (PRWEB) April 27, 2015
Every Friday morning, Martha McDonald dutifully shows up at the Sun Health Resale Shop in Sun City, Ariz., and begins sorting and marking donations – mostly clothes. Before retirement, she worked more than 20 years in the clothing business so she knows good threads when she sees them.
It's all in a day's volunteer work for this 100-year-old Sun City resident who owns the distinction of being the eldest of Sun Health's more than 250 volunteers.
All of the volunteers were celebrated at an appreciation brunch on April 17 as part of National Volunteer Week (April 12-18) activities. It was nonprofit Sun Health's way of thanking these individuals who collectively provided approximately 40,000 hours of service to the organization in 2014.
Volunteers pitch in in a variety of ways, from providing administrative support, to assisting with community education talks to assembling patient education binders. But the majority of volunteers help staff Sun Health's two resale shops (Sun City and Sun City West) and four gift shops, two inside Banner Boswell Medical Center in Sun City and two inside Banner Del E. Webb Medical Center in Sun City West.
The resale and gift shops raised more than $300,000 in 2014, which funded vital equipment, programs and services for patients at the two medical centers, as well as for the Banner Sun Health Research Institute and Sun Health's community wellness programs. One-hundred percent of net proceeds from the shops go to these charitable causes and 100 percent of it stays in the local communities.
"I'm truly thankful for what our volunteers do to help us fulfill our mission of championing healthy living, research and superior health care," said Ron Guziak, president and CEO of Sun Health. "We could not do it without their hearts and hands."
Rick Aldava, the youngest of Sun Health's volunteers at age 55, devotes around 20 hours a week to the Sun City Resale Shop, where his expert repair skills are highly prized. The Army veteran and jet propulsion mechanic, who retired early due to a workplace injury, used to browse in the resale shop while his mother received medical treatment next door. The resale staff told him that with all the time he was spending in the shop, he might as well volunteer, so he did.
"I feel like I work with 10 mothers," Aldava said speaking of his co-volunteers. "I love listening to their stories; they give good advice. I love working around them and with them."
About Sun Health
A long-standing community partner championing healthy living, nonprofit Sun Health is a community-based health care organization providing pathways to population health through philanthropy, senior living, community programs and superior health care. Learn more at http://www.SunHealth.org.
Photo cutline: Rick Aldava and Martha McDonald may be far apart in age, but both enjoy giving back as volunteers for nonprofit Sun Health.