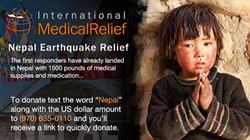 The first responders have already been treating patients in Nepal with 1500 pounds of medical supplies and medication.
Denver, CO (PRWEB) May 02, 2015
Denver, CO based International Medical Relief (IMR) is coordinating medical / dental teams and medical supplies to provide medical care in Nepal over the next 45 days. Participation on any of these trips is open to both medical and non-medical volunteers. Applications for the following trips are being accepted through their website at International Medical Relief.
The first responders have already been treating patients in Nepal with 1500 pounds of medical supplies and medication. The second wave of responders departed the United States today. An additional $500,000 of medical supplies are currently being packed and sent from IMR's medical supply warehouse in Ft. Collins, CO.
International Medical Relief (IMR) has two main hubs in Nepal. A partner hospital in Nepal serves as a center for surgical teams. They also operate a post surgical compound where patients go once they are discharged from surgery where IMR staff helps educate them, dress wounds and focus on recovery. A remote clinic operations is headquartered at the IMR base camp near the epicenter. Here, they have spread out to remote villages and also sent a local Nepalese team to transport patients back to the basecamp. The team has a bus and will also get remote patients and bring them down to the basecamp clinic as well. More serious cases are sent immediately to the partner hospital.
The volunteers are treating earthquake related injuries including traumatic amputations, fractures, serious wounds, infections, general illness and patients needing replacement medications. IMR volunteers are prepared to handle many emergencies, including births. They will also partner to help staff local medical facilities for the seriously ill and for surgical patients. Patients will receive complete medical and dental care, various procedures, laboratory tests, prescriptions, and health education at no cost.
International Medical Relief donors have been able to purchase greatly needed supplies such as IV fluids and antibiotics for the partner hospital to conduct surgeries. So far they have raised enough support to help 36 patients receive life saving surgery. All donations will go directly to help the victims of the Nepal earthquake. Donations can be made on their website International Medical Relief or by texting the word "Nepal" along with the dollar amount to (970) 635-0110.
International Medical Relief, established in 2002, provides medical, dental and surgical care to underserved and vulnerable communities around the world through short-term medical mission trips. International Medical Relief recruits qualified medical teams made up of doctors, dentists, mid-level providers, nurses, pharmacists, emergency medical personnel, medical / nursing students and other healthcare professionals as well as non-medical volunteers.