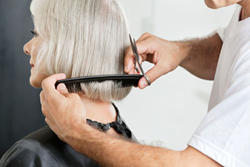 The stylists who work in these shops have experience working with seniors; therefore, they know the cuts and styles [residents] are looking for
Richmond, Virginia (PRWEB) April 30, 2015
Seniors Guide, the comprehensive resource for retirement housing, home care, and more says, "Thank You" and is taking special appreciation of the hairstylists that work and visit nursing homes, assisted living, and active adult retirement communities.
"The importance of beauty and style of one's hair doesn't go away with age", says Katharine Ross, Vice President of Seniors Guide Magazine and SeniorsGuideOnline.com.
"More retirement communities we work with are starting to offer on-site salon, barber shop, and even spa services to their available amenities", says Ross. "These hairstylists that work or visit with residents are enriching their lives".
In helping to educate during their appreciation, Seniors Guide Online has published the article, "Retirement Community Beauty and Barber Shops - Everything You Need to Know". Written by Seniors Guide writer Terri L. Jones,
"…Everything You Need to Know" highlights the benefits and impact these on-site beauty salons and barber shops have on retirement community residents.
"The stylists who work in these shops have experience working with seniors; therefore, they know the cuts and styles [residents] are looking for", says Jones. "in other words, they're not going to give you Molly Cyrus' hairdo unless you want it!"
To find local area retirement communities in Virginia, North Carolina, Ohio, and Indiana that offer on-site beauty salon services, visit http://www.SeniorsGuideOnline.com.
"When touring a community, be sure to check out the beauty/barber shop and don't be afraid to ask questions to make sure it will meet your needs", says Jones.
Seniors Guide, a Richmond, Va. -based company publishes Seniors Guide magazines throughout Cincinnati, Ohio; Columbus, Ohio; Dayton, Ohio; Indianapolis, Indiana; Raleigh-Durham, North Carolina; Richmond, Virginia; and Roanoke-Lynchburg, Virginia and features a correlating website of SeniorsGuideOnline.com. Seniors Guide's mission is to help seniors and their families find the information they need on options available in senior housing, senior care, assisted living, independent senior living, retirement communities and other retirement living needs. Seniors Guide also has resources at http://www.HomeCareChoice.com for Cincinnati, Ohio; Columbus, Ohio; Dayton, Ohio; Raleigh-Durham, North Carolina; and Richmond, VA. Ross Publishing, Seniors Guide's parent company, began in 1991 and has been publishing helpful, free publications and websites ever since.