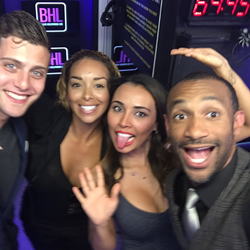 After my divorce with Matt, it spiraled me into a new life.
Hollywood, CA (PRWEB) April 28, 2015
Reality TV star Gloria Govan sat down for an in depth interview with Maria Menounos' network, Black Hollywood Live, for an opportunity to allow fans to get to know the "real' her.
Gloria Govan, ex-wife of current Clipper's forward Matt Barnes, definitely knows a thing or two about basketball. Prior to marrying the NBA star, she was quite the athlete herself. She was a three-sport athlete in high school, and went on to play basketball in college. Govan, who's had an all-access pass to all things Clippers during her marriage to Barnes, gave some great insight on what the Clippers would need to do to win a championship. "I think their chemistry is way too inconsistent both on and off the court. Blake (Griffin) and DJ (DeAndre Jordan) are the best of friends off the court, but on the court they become extremely competitive and kind of jealous…and it tears them apart. Chris is a great leader but sometimes he becomes too pushy and doesn't know how to talk to players," Govan expressed.
Govan is known to many fans internationally because of her stint on VH1's hit reality show "Basketball Wives." While the show has been the subject of controversy and the perpetuation of negative stereotypes among African-American women, Gloria insists that she went on show for a good cause. "We have a foundation, Athletes vs. Cancer…and we figured this would be a great time to showcase this," Govan shared. She also explained that Barnes was initially reluctant, but eventually consented after realizing the show could be a platform to get the word out about their foundation.
"Basketball Wives" is not the last we'll see of Govan on reality TV. She currently has a new show in the works with sister, Laura Govan. The show will document the lives of the sisters and the ups and downs of motherhood. Between the two of them, they have six kids total. Glovan stated, "We're in talks with a few networks…She (Laura) was engaged to Gilbert Arenas and their relationship is definitely TV worthy. They have four kids…After my divorce with Matt, it spiraled me into a new life. I'm now a single mom with kids".
Aside from being a mother and keeping a busy lifestyle, Gloria is looking to date again. Now that Gloria is officially back on the market, she told us what kind of guy she's looking for. "I'm definitely attracted to athletic men. (My next significant other) may not be an NBA player but he will definitely be an athlete." Gloria even got more specific and shared which three athletes she currently has her eye on. "I think Colin Kaepernick is a super cutie. I think JR Smith is super cute. And Chandler Parsons." She later went on to state that she used to have a huge crush on Tony Parker.
To view the complete interview, please click on the following link:
For more info about Black Hollywood Live contact @DerrialChriston
site: http://www.blackhollywoodlive.com/2015/04/24/nbas-top-5-clutch-players-gloria-govan-guests-sports-news-bhls-branded-athlete/
youtube: https://www.youtube.com/watch?v=nI-s5RfgL3Y
itunes: https://itunes.apple.com/us/podcast/the-branded-athlete/id721033278?mt=2
About Black Hollywood Live's "The Branded Athlete":
Hosted by Kevin John, Brittani Johnson, and Ben Bateman - "The Branded Athlete" airs every Friday and is available for free downloads on iTunes, BlackHollywoodLive.com, and also viewable on Youtube. Every week "The Branded Athlete" features intimate, in depth interviews with premiere athletes, while focusing on the brands of the athletes.