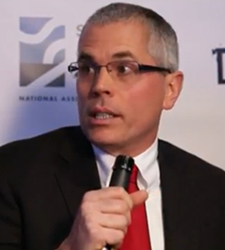 "There is a quote that to expose yourself to maximum gains, you need to expose yourself to maximum losses," he said. " I've had many wins, but also a colossal life-changing failure. However, my failures are my best opportunities to learn and grow."
Chicago, IL (PRWEB) April 30, 2015
American Homeowner Preservation ("AHP") Founder and CEO Jorge Newbery will lead the Nonperforming Mortgage Investing workshop at The Money Show on May 12 in Las Vegas. Newbery will share borrower-friendly strategies to achieve social and financial gains by investing in the mortgages of families at risk of foreclosure. The workshop is one of many in the three day event, spanning May 12 – 14, which brings together independent investors and traders to learn from a wide range of investment experts.
Newbery is an advocate of achieving rapid consensual resolutions to non-performing mortgages. "If a family wants to stay, we modify the loan by settling the delinquency at a big discount, reduce the payments to affordable levels and offer discounts to settle the principal balances," Newbery said. "If the home is vacant or the family does not want to stay, then we offer a cash incentive to sign a deed-in-lieu of foreclosure. Do not require dozens of documents for homeowners to get a mod or deed-in-lieu approved. We require minimal documentation and process with speed and urgency. That's win-win debt collection."
Newbery is adamant that a consensual solution is always best for both parties. "Some nonperforming loan buyers acquire loans and have tunnel-vision that they are going to foreclose on the homes, then turn into rentals," Newbery said. "You cannot impose resolutions on families, and you may will likely end up fighting it out in court with the homeowners, with both sides wasting money paying attorneys. That's lose-lose debt collection."
Newbery brings more than 25 years of real estate experience to the workshop as well his insights from operating AHP, which crowdfunds the purchase of pools of distressed mortgages. His life has been full of success and failure.
"There is a quote that to expose yourself to maximum gains, you need to expose yourself to maximum losses," he said. " I've had many wins, but also a colossal life-changing failure. However, my failures are my best opportunities to learn and grow." Newbery's rise and fall are chronicled in the upcoming book, Burn Zones, now available for pre-order on Amazon.
American Homeowner Preservation is a socially responsible investment fund manager which empowers accredited investors to purchase equity in pools of distressed mortgages and earn returns of 9-12%. For further information or inquiries please visit https://ahpinvest.com or call 800-555-1055. *Past performance is not indicative of future results.
The Money Show will be held May 12 – 14, 2015 at Caesars Palace in Las Vegas, Nevada. Learn more at http://www.moneyshow.com.