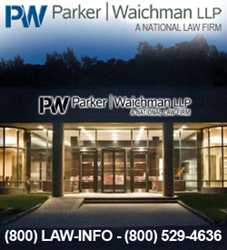 As a law firm that actively represents numerous individuals who were injured by allegedly defective medical devices, we want to keep consumers up-to-date about recent news involving the Medtronic Synchromed pumps
Port Washington, New York (PRWEB) April 29, 2015
Parker Waichman LLP, a national law firm dedicated to protecting the rights of whistleblowers and victims injured by defective drugs and medical devices, reacts to news that the U.S. Food and Drug Administration has indicated in an April 27, 2014 report that device maker Medtronic Inc. must cease sales of most of its implantable SynchroMed II drug pumps devices following years of problems that went uncorrected. The FDA indicated that it has issued three warning letters to Medtronic concerning quality control and manufacturing problems at its drug pump facility in Columbia Heights, Minnesota, between 2006 and 2013. FDA inspectors visited the plant five times during that time frame, according to the announcement made by federal regulators on April 27, 2015. Some SynchroMed devices have required recalls over loss of battery power, which may lead to device failure, posing significant danger to patients. In some cases, the Medtronic devices over- and under-dosed patients, the FDA indicated in its April 27, 2015 announcement.
Medtronic's SynchroMed pump devices are surgically implanted pumps meant to deliver medication to an area near the spinal cord and are used to treat patients who have been diagnosed with cancer, severe muscle spasms, and chronic pain, and who do not respond to oral medications or who have suffered severe side effects to oral medications, according to a June 28, 2013 Class I recall announcement issued by the FDA for the SychroMed System.
Also, according to the FDA's recall database, more than 30 Class I recalls have been issued over the Medtronic SynchroMed system.
A Class I recall designation is the most serious designation issued by the FDA and is indicative of a significant issue that may potentially lead to serious injury, including death, according to Parker Waichman.
"As a law firm that actively represents numerous individuals who were injured by allegedly defective medical devices, we want to keep consumers up-to-date about recent news involving the Medtronic Synchromed pumps," said Mr. Falkowitz. Parker Waichman LLP comments that it is aware that patients may be harmed during medical procedures and as a result of the use of any medical device and is available to assist those individuals who have suffered injuries related to these procedures and medical device products.
A consent decree is a type of settlement in which a company agrees to court-ordered actions, in this case, Medtronic over its SynchroMed infusion pump system. Guilt or fault is typically not admitted and the decree remains in effect until federal regulators deem the problems detailed in the decree as being resolved, Parker Waichman explained.
"Consent decrees are serious documents that, once approved as actions, enable the FDA to offer stricter oversight over any planned design changes for the device involved, as well as any planned changes by the manufacturer to its quality control processes in manufacturing and distribution," Gary Falkowitz, Managing Attorney at Parker Waichman noted.
The FDA's consent decree for permanent injunction was filed in the U.S. District Court of Minnesota in collaboration with the U.S. Department of Justice and is pending signature from a federal judge: Case No. 0:15-cv-02168 filed April 27, 2015. Medtronic CEO Omar Ishrak and neuromodulation business chief Thomas Tefft sold medical devices that did not meet federally mandated manufacturing standards under the Food, Drug and Cosmetic Act. According to the government filing, "Defendants are well aware that their practices violate the Act…. FDA has repeatedly warned defendants, both orally and in writing, about their violative conduct."
Parker Waichman is available to assist potential claimants in order to further its investigation of the issues surrounding the Medtronic SynchoMed Pump and continues to offer free lawsuit consultations to victims of injuries due to allegedly defective or unapproved medical devices and procedures. If you or a loved one has been affected by the Medtronic SynchroMed Pump or other medical device you may obtain more information at Parker Waichman LLP. Free case evaluations are also available by calling 1-800-LAW-INFO.