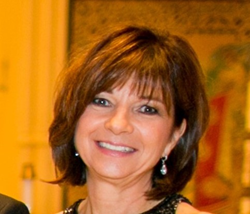 Pat's leadership, commitment and vision have not only supported Connections Education, but her work has improved distance learning practices across the entire K-12 learning field, transforming the lives of students and families everywhere.
Baltimore, MD (PRWEB) April 29, 2015
Connections Education (http://www.ConnectionsEducation.com), a leading provider of virtual education solutions for students in grades K–12, has been honored by the United States Distance Learning Association (USDLA) with two 2015 International Distance Learning Awards. Dr. Patricia Hoge, Executive Vice President of Curriculum and Instruction and Chief Academic Officer, received one of the organization's most prestigious awards for "Outstanding Leadership by an Individual in the Field of Distance Learning." Additionally, an initiative championed by Dr. Hoge, was awarded the "Best Practices in Distance Learning Programming." Connections Education and other Award winners were announced at a gala awards ceremony during the USDLA's 2015 National Conference in St. Louis, MO.
Dr. Hoge was honored by the USDLA for her major and lasting contributions to Connections Education, but also for her positive impact on the entire K-12 distance learning field. Over the course of her nine-year career at Connections, Dr. Hoge has developed and promoted practices that have contributed to Connections Education's reputation for high-quality and highly accountable K-12 virtual education. Many of her innovations in the area of curriculum and teacher quality have been adopted as industry best practices and continue to strengthen and enhance the entire online learning community.
Connections Education President Dr. Steven Guttentag commented, "Pat is an educator to the very core of her being, with an educator's love for the ineffable spark that occurs between teacher and student. But she's also a clear-minded data scientist, and she wants to see evidence of what works and find new ways to make education more effective for students. Pat's leadership, commitment and vision have not only supported Connections Education, but her work has improved distance learning practices across the entire K-12 learning field, transforming the lives of students and families everywhere."
One of Dr. Hoge's chief contributions, the Connections Education Professional Learning Model, was also honored by the USDLA. The Connections Education Professional Development team, under Dr. Hoge's guidance, provides online professional development to over 3,000 school-based educators and administrators and is designed to increase student achievement, personalize learning for students, prepare students for college and careers, and increase teacher effectiveness. The focus of the Professional Development team is the coordination, planning, delivery, and continuous support of professional learning initiatives through a systematic and comprehensive multi-year professional development plan.
"As a premier organization for the entire distance learning profession, we are honoring Connections Education as a leader in the industry," said Dr. John G. Flores, Executive Director of USDLA and Program Professor at Nova Southeastern University. "Connections Education has raised the bar of excellence and we are truly honored by Connections' contributions within all distance learning constituencies."
Dr. Hoge is a veteran educator and online learning advocate who has served as Chief Academic Officer for Connections Education for close to a decade. Her early career as a speech-language pathologist and her experiences as a parent have given her a unique view of learning differences. She never forgets that each student comes to the education process wired just a little differently, and that all learners—the students and the adults who serve them—need a little help finding the tools they need to succeed.
Just a few highlights of Dr. Hoge's many accomplishments include:

Creating and implementing a system wide multi-year professional development initiative designed to support teachers in delivering data-driven instruction and maximizing the effectiveness of their online teaching practices.
Leading the Connections effort to ensure equal access to ALL students by requiring course content to be developed to meet or exceed the intent of WCAG (Web Content Accessibility Guidelines) 2.0 AA Success Criterion.
Creation of a multi-tiered instructional model to support student learning and identify students who may need more intensive interventions; including tools and reports to monitor the progress of students receiving these additional interventions.
Development of reports that allow teachers to use real-time data to monitor student performance and identify skills and objectives that need additional review/reinforcement.
The USDLA's International Distance Learning Awards are the world's most prestigious distance learning awards. Presented annually to individuals and organizations engaged in the development and delivery of distance learning programs, the Awards recognize major accomplishments in distance learning and highlight those distance learning instructors, programs, and professionals who have achieved and demonstrated extraordinary results through the use of online, videoconferencing, satellite and blended learning delivery technologies.
About Connections Education
Connections Education is a leading provider of high-quality, highly accountable virtual education solutions for students in grades K–12. Since 2001, the company's Connections Academy has delivered individualized learning to students through tuition-free virtual public schools. In the 2014–2015 school year, Connections Academy supports 29 virtual public schools in 25 states—serving more than 60,000 students. Connections Education offers a fully online private school for students worldwide and delivers blended (combination of online and on-site) learning in select states via tuition-free, public, Nexus Academy schools. The Connections Learning by Pearson division meets the needs of schools, school districts, and other institutions with a full range of digital learning solutions for grades K–12 including: online courses, a program for homebound students, a digital learning platform, and private and public online schools. Connections Education is based in Baltimore, Maryland and was named a 2014 "Top Workplace" by the Baltimore Sun and a 2013 "Best Place to Work" by Baltimore magazine. Connections Education is part of the global learning company Pearson.
CONTACT:
Allison Bazin, Connections Education Public Relations
(609) 247-0275 or abazin(AT)connectionsacademy.com
Sandy Burke, Athena Public Relations
(203) 912–9490 or sandy(AT)athenapr.com