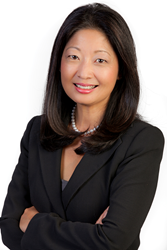 Few leaders have both entrepreneurial and team leadership skills. Bonnie Khang-Keating is one of the few
Los Angeles, CA (PRWEB) April 29, 2015
SmithGroupJJR, one of the nation's leading architecture, engineering and planning firms, has named Bonnie Khang-Keating as director of its Los Angeles office. Formerly serving as the office's studio leader, Khang-Keating moves into the new role to continue to lead the office's strategic growth.
Khang-Keating brings over 20 years of architectural design experience managing both national and international projects and is recognized for bringing a professional level of precision and overall management that goes far beyond the client's expectations. By evaluating the community's organizational capacity for stimulating or inhibiting change, Khang-Keating demonstrates the importance of understanding a society as a complex system whose parts work together to promote solidarity and stability.
In her new role, she will focus on increasing staff to support the office's growth and further developing the Health, Science & Technology and Workplace practices, while also continuing to reinforce SmithGroupJJR's reputation as an award-winning firm.
"Few leaders have both entrepreneurial and team leadership skills. Bonnie Khang-Keating is one of the few," said Carl Roehling, FAIA, LEED AP BD+C, SmithGroupJJR president & CEO. "She has grown a great practice and a great team."
For healthcare client Kaiser Permanente, Khang-Keating led the firm's Phase 2 design services for the 400-bed Kaiser Permanente Los Angeles Medical Center replacement hospital. Additionally, she led SmithGroupJJR's design of the recently completed Cedars-Sinai Medical Center's Comprehensive Transplant Center, Los Angeles, which consolidates four transplant programs into one building.
A graduate of USC's School of Architecture, Khang-Keating has been heavily involved in several boards and committees including the USC Architectural Guild, City of Pasadena Design Commission, City of Pasadena Planning Advisory Committee, City of Los Angeles Cultural Heritage Commission, and The Huntington Library & Botanical Gardens. Khang-Keating was the 2013 recipient of the Los Angeles Business Journal Women Making a Difference Award.
SmithGroupJJR's Los Angeles office is providing design services for the renovation of a 1950's-era building on the University of Southern California's campus into the new Institute for Neuroimaging and Informatics, now under construction; the 200,000-square-foot Rancho Los Amigos National Rehabilitation Center in Downey, Calif.; and the 158,000-square-foot County of San Diego Crime Laboratory.
SmithGroupJJR (http://www.smithgroupjjr.com) is a recognized, integrated design firm with 900 employees in 10 offices. With 124 LEED certified projects and 360 LEED professionals, SmithGroupJJR is a national leader in sustainable design.