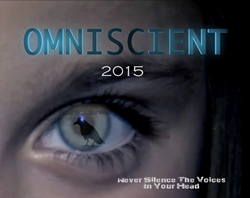 With Lucien and his daughter, Grace, the stakes are so high and global and Lucien is a psychopathic villain so it's mythic; but it really feels different. There is nothing like it out there in the film world. Alex Dale, Writer
Century City, Calif. (PRWEB) April 29, 2015
Natalie Bible', director of "Windsor Drive" (newly acquired by Indican Pictures for a release in early summer 2015) recently inked a deal with Bella Luce Productions to direct sci-fi drama, "Omniscient." Bible's sleek and artistic style will prove beneficial in constructing a visually stunning movie.
"Omniscient," written by Alex Dale and Eric Shipley is a complex and intellectually engaging story. Lucien, a British cult leader, is second in command of the Son's of Enlightenment. He comes from a long line of telepaths, yet it's his estranged teenage daughter, Grace, who was born with enhanced telepathic ability; the strongest in centuries. Lucien must subvert his fatherly tendencies and give in to the darkness to carry out the orders of Sons of Enlightenment leader, John Sutter. However, Lucien has plans of his own; kidnap Grace to clone her telepathic ability before her mother thwarts his plan to control humanity.
Influenced by the works of David Lynch, Stanley Kubrick & Alfred Hitchcock, Bible' is an extremely versatile director with an ability to captivate and create intellectually stimulating films. Bible' made her directorial debut with the stylish and cerebral thriller, "Windsor Drive" (2015) produced by Brieanna Steele (Absinthe Productions) and a stellar ensemble cast, including Tommy O'Reilly, Samaire Armstrong, Jillian Murray, & Matt Cohen.
"I'm looking forward to directing this script. Lucien is not yet the respectable leader he first appears to be," Bible' explained. "He is a troubled and dark character who is going down the wrong path and overcome by greed and power. It's a great conflict to see someone struggling with their powers and how far he will take his daughter to become the most powerful person in the world."
Dale added, "With Lucien and his daughter, Grace, the stakes are so high and global and Lucien is a psychopathic villain so it's mythic; but it really feels different. There is nothing like it out there in the film world."
"Omniscient" goes into full production in May 2015. For more info, please visit the Omniscient Film Official Website.