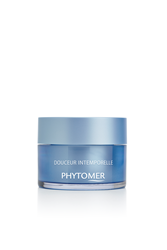 GLYCOSEA works to reduce the appearance of red patches and prickling sensations as soon as it's applied...
SAINT-MALO, FRANCE (PRWEB) April 30, 2015
Available in select spas in the United States and at http://www.lespausa.com
Phytomer's DOUCEUR INTEMPORELLE Restorative Shield Cream provides immediate soothing to sensitive and reactive skin while battling the weakening threat of inflammaging, aging directly caused by inflammation. This restorative cream is formulated with star ingredient GLYCOSEA, a complex of restructuring plankton sugars derived via biotechnology in a complex of soothing minerals and trace elements. GLYCOSEA works to reduce the appearance of red patches and prickling sensations as soon as it's applied, while working to preserve the cell's ability to regenerate, strengthening the skin's physical and chemical barriers. The skin is treated at the root of premature aging, restructured long-term, which enables skin to improve resistance against harmful agents that activate inflammation. Its lightweight, allergen-free formula is enriched with invisible green pearls to visibly cover redness while nourishing ingredients including Allatoin, Provitamins and Shea Butter leave skin feeling ultra comfortable. Impressive clinical test results available upon request.*
*measurement of volunteers by corneometry and self-scoring.
DOUCEUR INTEMPORELLE Restorative Shield Cream...50 ml, suggested retail price $125.50
Directions for use: Gently apply morning and evening to perfectly cleansed face and neck. May be used alone or with the serum of your choice.
GLYCOSEA - Phytomer scientific innovation, GLYCOSEA is a high-tech marine infusion that consists of strengthening and restructuring plankton sugars from marine biotechnology combined in a complex of intensely soothing minerals and trace elements. A unique symbiosis of biomimetic ingredients, PHYTOMER scientists use it to instantly neutralize inflammation and strengthen the skin's capacity to protect itself*
on a daily basis.

Allantoin and Vegetable Squalene - comforting and soothing actions.
Gylcerin, Provitamin B5, PCA and Urea Derivative - moisturizing properties and strengthening of the barrier function.
Ceramides, Shea Butter and Vegetable Oils - ideal lipid supply for nourishing and lipid- replenishing effect.
*In vitro test on the ingredient
###
Phytomer at a glance:
With over 40 years as the leader in the marine skin care, Phytomer is now a pioneer in the field of marine biotechnology, the future of results-oriented cosmetics. This is the newest technology to create innovative, 100% natural skin care ingredients. Based in Saint-Malo, France, and distributed in 70 countries worldwide, Phytomer has a reputation of leadership and expertise within the spa industry. With Phytomer meaning "plant of the sea," we utilize seawater, seaweed or seaside plants in every retail and professional product, combining science with the natural powers of the sea. We are one of the only spa brands with our own laboratory, allowing us to research and cultivate our own ingredients, develop unique cosmetic formulas, manufacture skin care products and create cutting-edge professional treatments to deliver remarkable results.