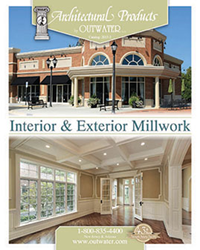 Available in a diversified range of wood species and designs, Outwater's new wood mouldings & millwork are offered at down to earth pricing, yet impart a sense of unsurpassed quality that is comparable to the finest decorative wood products on the market.
BOGOTA, NJ (PRWEB) May 05, 2015
Outwater [Outwater Plastics Industries, Inc. + Architectural Products by Outwater, LLC] has introduced a broad selection of new wood moulding and millwork products in response to numerous requests from residential and commercial builders, remodelers, designers, architects and retail consumers who have been unable to readily obtain these difficult to source items in the past. Available in a variety of wood species in a diversified range of classic and contemporary designs, these sought after decorative wood products are offered at down-to-earth pricing, yet impart a sense of unsurpassed quality that is comparable to the finest wood mouldings and millwork on the market.
1) Stock and Made-to-Order Wood Corbels and Brackets
Designed not only for use as ornamentation, but also as a sturdy support for shelving or a wall mounted display upon which to showcase works of art and family heirlooms, Outwater's Royal Wood Collection of Wood Corbels and Brackets will undoubtedly heighten the refinement of any environment.
Handcrafted and meticulously detailed by master artisans from premium North American hard maple, red oak, cherry and alder, Outwater's Royal Wood Collection of Wood Corbels and Brackets capture an incomparable depth and definition, and are renowned for their exquisite detail and consistent quality.
Stocked in an extensive assortment of sizes and designs to complement traditional or contemporary applications, Outwater's Royal Wood Collection of Wood Corbels and Brackets come sanded and are ready to paint or stain.
For those who have envisioned bringing custom-made Wood Corbels and Brackets to fruition, yet, because of their exorbitant cost, have had to abandon their dreams of ever doing so, Outwater is pleased to introduce its reasonably priced Custom Carved Wood Program.
By simply providing Outwater with an actual material representation or detailed rendering of a particular Wood Corbel or Bracket desired for reproduction, Outwater's expert craftspersons will individually handcraft a made-to-order prototype, and upon approval, will fabricate any number of pieces called for to match existing wood corbels, brackets, mouldings or other millwork.
In addition, Outwater also offers other collections of Corbels and Brackets in resin, white hardwood as well as textured and non-textured polyurethane.
Link: Royal Wood Collection of Corbels and Brackets
Link: Custom Carved Wood Program
Outwater offers its updated line of Wood Plus, an innovative line of decorative mouldings that afford the look, quality and elegance of the finest plaster and wood mouldings at the cost of inexpensive, unfinished pine mouldings.
Comprising a premium grade, solid wooden core harvested from managed forests, Outwater's Wood Plus collection includes a full range of crown mouldings, panels, panel mouldings, friezes, backbands and casings fused with a durable, ultra-smooth composite polymer bonding that can be painted without priming.
Offered with highly intricate or more conservative embellishments to suit specific decorative needs, Outwater's Wood Plus Mouldings convey the authentic detail and deep relief motifs of old-world, labor-intensive plaster mouldings utilized in beautifully appointed, refined settings from the past.
Suitable for painting, glazing or faux finishing, Wood Plus Mouldings are sold in 100% usable 8-ft. lengths.
Quite simply, there is no minus to Wood Plus.
Outwater has augmented of its line of Wood Half-Round Rope Mouldings with the introduction of new designs and widths.
Stocked in maple, oak, poplar and cherry in 8-ft. lengths in widths from 3/8-in. to 4-in., Outwater's Rope Mouldings can be easily stained or painted and are ideal for use as tack on adornment on furniture or as cabinet borders.
Available in additional wood species and sizes, Outwater also offers custom manufactured Flexible Half-Round Resin Rope Mouldings, which are sold in 6-ft. to 12-ft. lengths in widths from 1/2-in. to 1-in.
Outwater's Flexible Resin Rope Mouldings not only enable one to easily create radii to accommodate almost any inside, outside or arch radius application without causing profile deformation or stress to surfaces to which they have been affixed, they can be installed using typical woodworking equipment and do not require priming before finishing.
4) Decorative Screening Panels
In addition to its wide selection of wainscoting, beadboard and woven wire grille products currently offered, Outwater has just introduced its new series of Decorative MDF Screening Panels.
Great for adding an innovative a new and stylish flair to any type of paneling application, Outwater's Decorative MDF Screening Panels are appropriate for use on furniture, cabinet doors, drawer fronts, interior walls and doors, radiator grilles, ceilings and display fixtures.
Stocked in 10 different patterns measuring 6-ft. wide x 2-ft. high, Outwater's Decorative MDF Screening Panels comprise "air flow" openings from 30%-49%.
5) Bun Feet
Intended to add sophistication, not to mention, that "final touch" to any type of furniture, Outwater's unfinished hardwood Bun Feet are now available in numerous new styles and sizes in a vast array of round and square profiles to suit all aesthetic and functional requirements.
Manufactured with pre-inserted 5/16"-18 thread hanger bolts and integrated tack glides, which not only allow for easy installation, but also increase furniture mobility while protecting floors from abrasions, Outwater's Bun Feet guarantee that one's furniture will always put their best feet forward.
Now offered with new lower pricing in furniture grade red oak, maple, cherry and alder in standard and mini sized square and diagonal patterns, Outwater's sanded and ready to install and finish solid North American hardwood Lattice Insert Panels afford significant improvement to kitchen and china cabinet doors, residential and commercial casework, hutches, dining and bedroom furniture, entertainment centers, curios, wine cabinets, closet storage systems, clocks and ceiling inserts.
7) Bar Rails and Radius Corners
Often unnoticed yet integral to the ultimate appearance and functionality of any bar, no bar is truly complete until it is fitted with Outwater's Wood Bar Rails and Radius Corners.
Not just meant to replicate the look of and pay homage to venerable taverns from yesteryear, Outwater's ready to stain red oak, cherry and maple Bar Rails and Radius Corners are an essential component for any bar, and provide comfort as an arm rest for those seated around the bar while additionally preventing spilled drinks or food from ever making it off the bar top.
Outwater's Wood Bar Rails are offered in 12-ft. lengths in an assortment of different profiles with available corresponding Radius Corners to complement Outwater's extensive selection of wood carvings, corbels and appliques.
About Outwater [Outwater Plastics Industries, Inc. + Architectural Products by Outwater, LLC]:
Outwater can be contacted Toll Free at 1-800-631-8375 (for sales and product information in the USA & Canada) / 1-201-498-8750 (for sales and product information outside of the USA & Canada) or viewed online at http://www.outwater.com
Outwater was founded as a brick and mortar company in August 1972 to provide small and midsized furniture and cabinet builders with a reliable source from whom they could purchase plastic extruded profiles in the amounts that reflected their actual requirements rather than the substantial minimum quantities that were dictated by the majority of extrusion manufacturers.
From the vendor of a single product line, Outwater, with sales and distribution facilities in New Jersey and Arizona, is an international manufacturer and distributor of more than 65,000 traditional and innovative products required by woodworkers, cabinet and furniture manufacturers, builders, remodelers, designers, architects, point-of-purchase and display fixturing manufacturers, OEM's, and retail consumers.
Major product categories include interior & exterior architectural mouldings & millwork; columns & balustrades; wrought iron components; decorative stamped ceiling panels & backsplashes; wainscoting; wall coverings; fireplace surrounds; ornamental wood carvings; period & contemporary hardware; kitchen cabinetry; home organization systems; plastic & aluminum extruded profiles; lighting; furniture, cabinet & store fixture components; knobs & pulls; point-of-purchase components; display & exhibit systems; sign components… and so much more!
Contact:
Joey Shimm, Director of Marketing
Outwater Plastics Industries, Inc. + Architectural Products by Outwater, LLC
(201) 498-8750
Sales & Product Information (USA & Canada):
1-800-631-8375 / 1-201-498-8750
Fax (USA & Canada): 1-800-888-3315 / 1-201-498-8751
Sales & Product Information (Outside of the USA & Canada):
1-201-498-8750
Fax (Outside of the USA & Canada): 1-201-498-8751
Email: info(at)outwaterplastics(dot)com
New Jersey • Arizona
###