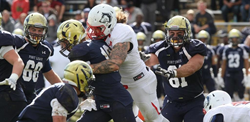 The 30 pounds I've gained in muscle and renewed agility because of my diligence I am hoping will pay off for me this week during the draft. I want them to know won't let a team down
(PRWEB) April 29, 2015
At 6'7'' and 300 pounds of muscle, Joshua Bredl, former Colorado State University (CSU)-Pueblo lineman is hopeful for a shot at the NFL this week as the draft begins. Working tirelessly for an opportunity to go pro, he participated in both the national Super Combine in Arizona and the regional NFL combine at Broncos headquarters and recently was invited back for a private workout.
Bredl (24) helped his Pueblo DII CSU football team win the championship in 2014. A father of Nayeli, 3, Bredl knows that his current draft ranking comes in at 711, as called by Tony Softli's draft predictions, but he hopes his hard work in the gym and on the field will tip the scales in his favor.
"In my recent 9News interview I was quoted as saying 'I've been a winner my whole career,' but only because I work as hard as it takes to succeed and provide for my family," said Josh Bredl. "The 30 pounds I've gained in muscle and renewed agility because of my diligence I am hoping will pay off for me this week during the draft. I want them to know won't let a team down."
A Defensive End and Defensive Tackle for CSU-Pueblo in 2012-2014, and a Tight End for the pack 2009-2011, Bredl began his football career at Horizon High School in Thornton, Colo., and was ranked the 93rd best tight end prospect in the nation by ESPN. Playing for the Thunder Wolves, Bredl was a 2014 National Champion, All-Conference 2014 winner and four time RMAC champion. Bredl graduated with a BA in EXHP-Kinesiology in 2014.
For more information please contact Bredl's agent, Evan Brennan, 801-691-8976, or Meghan Dougherty, meghan(at)meghandougherty(dot)com, 720-560-0177.