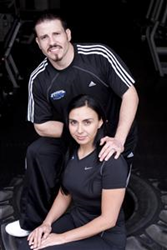 Westlake Village, CA (PRWEB) April 30, 2015
Ultimate Performance & Fitness, Inc. has been selected for the 2015 Best of Westlake Village Award in the Gyms category by the Westlake Village Award Program.
Each year, the Westlake Village Award Program identifies companies that they believe have achieved exceptional value and service in their local community and business category. These are local companies that enhance the positive image of small business through service to their customers and the community. These exceptional companies help make the Westlake Village area a great place to live, work and play.
Ultimate Performance & Fitness, Inc. is among a very small group of companies that have won the Best of Westlake Village Award for three consecutive years. This distinction has qualified Ultimate Performance & Fitness, Inc. for the 2015 Westlake Village Business Hall of Fame. To commemorate their inclusion in this elite group an exclusive Hall of Fame Award, available only to Hall of Fame inductees, has been created.
"We founded UPF with one simple purpose—to provide quality service and expertise that render unparalleled results. This is what sets us apart from the rest," said UPF Owner and Master Trainer, Ivan Lopez. "We pride ourselves in being the "anti-gym" facility. We are a no nonsense, no gimmicks, no false promises training atmosphere. This is strictly a supportive environment where people who are serious about change come to focus and train with only the best professionals in the local industry."
Various sources of information were gathered and analyzed to choose the winners in each category. The 2015 Westlake Village Award Program focuses on quality, not quantity. Winners are determined based on the information gathered both internally by the Westlake Village Award Program and data provided by third parties.
About Ultimate Performance & Fitness
Ultimate Performance & Fitness is one of the largest private personal training facilities in the Conejo Valley with nearly 5,000 square feet of new top-of-the-line cardio and strength equipment. All personal trainers that train clients at Ultimate Performance and Fitness must meet strict qualifications in terms of professionalism, training, education and level of certification. These gifted certified personal trainers must also continue to educate themselves in the latest fitness and healthy trends and innovations to better serve the clients of the Conejo Valley. Proprietors Ivan and Gladys Lopez are both certified personal trainers as well.
Ivan is a graduate California Lutheran University and holds a Bachelor's degree in Exercise Science and Sports Medicine with a concentration in Human Movement. He is a Certified Personal Trainer through the National Academy of Sports Medicine (NASM) and is a Certified Corrective Exercise Specialist as well as a Performance Enhancement Specialist through NASM. In addition, Ivan holds the complete Apex personal training certification through a major national fitness chain. Ivan has built a solid reputation in the fitness industry assisting clients reach their peak fitness performance since 1998. He has serviced over 25,000 sessions as a Personal Trainer, which has earned him the title of Master Trainer. His clients range from beginners to professional athletes. All age ranges, expecting moms, rehabilitation patients and more. Ivan makes it his personal goal to provide his clients with all of the tools necessary in order to guarantee that they reach their fitness goals successfully.
Gladys has over eleven years of experience and is a Certified Personal Trainer through a major fitness chain in the U.S. Gladys holds a Bachelor's Degree from Santa Clara University (2001), a Master's from the University of California Santa Barbara (2005), and is currently a Ph.D. Candidate at the University of California Santa Barbara. Gladys' main concern is that her clients feel comfortable and that they are challenged during their customized workouts. Gladys' technique can be described as dynamic training; ensuring that her clients get great results within a minimum amount of time.
Ultimate Performance and Fitness is located in the industrial park across the street from the entrance to the Four Seasons Westlake Village.