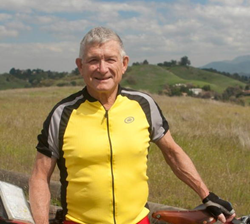 The Cycle of Hope is a fund raising initiative for Habitat for Humanity, our goal this year is to raise $250,000d a quotable.
San Francisco, California (PRWEB) April 30, 2015
Len Holmes, an International Tour Management Institute (ITMI) certified tour guide and tour director, and his good friend Bob Frick are gearing up to bike across the country for the third time to raise funds and awareness for Habitat for Humanity East Bay/Silicon Valley. On May 9, 2015, the dynamic duo will kick-off their 3,400 mile journey at Muir Ridge, the newest Habitat community in the area. Along the way, Bob and Len will generate awareness for affordable homeownership by stopping by to visit a number of Habitat for Humanity affiliates before ending their journey in Savannah, Georgia.
"The Cycle of Hope is a fund raising initiative for Habitat for Humanity, our goal this year is to raise $250,000," states Len. "This will help to fund three affordable homes for deserving families in our area. Since the first Cycle of Hope, Bob and I have raised almost $270,000, which was used to sponsor Habitat homes in Bay Point and Walnut Creek. Full disclosure: Bob is the money man; I'm the tour director."
When he is not volunteering for Habitat for Humanity, Len enjoys his encore career as a tour guide and tour director, leading groups in San Francisco and throughout California. In 2013 Len, who is now 73 years old, graduated from the International Tour Management Institute's 15-day hands-on training program. The flexibility that tour guiding offers, allows him to continue to devote time to community service work.
"Len is an outstanding example of the kind of student we welcome into the program," says Ted Bravos, CEO of ITMI. "His maturity, life experience and humanitarian ideals make him an exceptional ambassador of goodwill to all of his tour guests."
To follow Len and Bob on their Cycle of Hope mission, visit their Facebook page: http://www.facebook.com/habitatcycleofhope.
About ITMI:
Since 1976, ITMI has been America's premier training and certification program for professional tour directors and guides, with over 7,000 graduates leading tours around the world. For more information about ITMI contact Annemarie Osborne Annemarie.Osborne(at)gmail(dot)com, or (949) 237-2906 or visit http://www.itmisf.com.
About Habitat for Humanity International
Habitat for Humanity International's vision is a world where everyone has a decent place to live. Since 1976 Habitat has helped more than 5 million people through home construction, rehabilitation and repairs and by increasing access to improved shelter. Habitat works in more than 70 countries and welcomes people of all races, religions and nationalities to partner in its mission. To learn more, donate or volunteer, visit http://www.habitat.org.
# # #