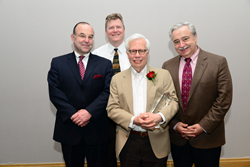 St. Louis, MO (PRWEB) April 30, 2015
Barry A. Siegel, MD, and James Delmez, MD, received the Barnes-Jewish Medical Association's Lifetime Achievement Award at the Association's semi-annual general meeting this month at the Eric P. Newman Education Center. The award goes to physicians who have given 25 years or more of distinguished service to Barnes-Jewish Hospital (BJH).
Dr. Siegel joined the Washington University School of Medicine faculty and BJH staff in 1973. As professor and senior vice-chair of radiology, chief of the division of nuclear medicine and a professor of medicine, Siegel has trained generations of radiologists and nuclear medicine physicians, helping them to think critically about the role of imaging in practice.
Siegel also has been instrumental to the Alvin J. Siteman Cancer Center. In 2014, Siegel was awarded the Benedict Cassen Prize for Research in Nuclear Medicine and Molecular Imaging for his groundbreaking use of positron emission tomography (PET) scans to enhance cancer diagnosis and care.
Siegel attended Washington University School of Medicine and completed his residency in diagnostic radiology and a fellowship in nuclear medicine at the Mallinckrodt Institute of Radiology at Washington University.
Dr. Delmez is a professor of medicine in the division of renal diseases and medical director of the Chromalloy American Kidney Center. He has been a Washington University School of Medicine faculty member for forty years.
Delmez has committed his life to the care of patients with end-stage renal disease requiring chronic dialysis. Many of his studies improved the knowledge of how to reduce the complexities of morbidity and mortality from dialysis. His work led to national policies and procedures that expanded and improved the quality of care to ensure that dialysis patients received the necessary amount of dialysis to have appropriate metabolic function.
He is internationally known for his contributions for the treatment of patients with acute and chronic renal disease. He has been an invited speaker at many national and international clinical nephrology meetings, and has authored multiple reviewed articles and chapters.
Delmez is a graduate of the University of Rochester School of Medicine and Dentistry, Rochester, New York. He completed his residency in internal medicine and a fellowship in the renal division of Washington University School of Medicine.
###
About Barnes-Jewish Hospital
Barnes-Jewish Hospital is a 1,315 bed teaching hospital affiliated with Washington University School of Medicine in St. Louis, Mo. The hospital has a 1,763 member medical staff, with many recognized as "Best Doctors in America." Barnes-Jewish is a member of BJC HealthCare, which provides a full range of health care services through its 12 hospitals and more than 100 health care sites in Missouri and Illinois.