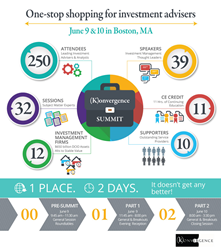 Fund companies around the world are leading the way with innovations in plan design, participant education, and investment approaches that can help savers achieve their goal of secure retirement.
East Granby, CT (PRWEB) May 04, 2015
A panel discussion among three investment company CEOs on investment solutions from around the globe that can be incorporated into our national retirement policy will be a high note at the (K)onvergence Summit. The panel will feature CEOs Andrew G. Arnott of John Hancock Investments, Peter S. Kraus of AB, and Michael Roberge of MFS Investment Management. The panel will be moderated by Brian Reid, Chief Economist of the Investment Company Institute in Washington, DC.
The CEO panel will examine national models from Australia, New Zealand, Chile, Hong Kong, France, Italy and the UK, among other places. CEOs will discuss the impact of the global trend from Defined Benefit (DB) plans to Defined Contribution plans on investment array construction, the relative levels of investor/participant risk tolerance, and the development of appropriate products for each market.
Brian Reid will also deliver the keynote "State of Retirement Plans" address focusing on today's market risks and opportunities and investment strategies to lead off the second (K)onvergence Summit, at the Seaport Hotel and World Trade Center in Boston June 9-10, 2015. Agenda
"As more and more countries are examining DC systems and considering how these systems can help their citizens save for the future, funds can play a crucial role in helping meet global retirement savings challenges. Fund companies around the world are leading the way with innovations in plan design, participant education, and investment approaches that can help savers achieve their goal of secure retirement," says Brian Reid, Chief Economist at the Investment Company Institute.
The summit's theme is Formulating U.S. National Retirement Policy – Investment Array of the Future. The ultimate goal is to outline strategies to evolve investment policies, arrays, and products that will enhance retirement outcomes for working Americans.
Summit invitations were sent to more than 2,600 retirement plan investment advisers and investment analysts. Attendees will have the opportunity to meet face-to-face with top portfolio managers from 12 leading investment management firms and conduct due diligence on these firms. Speakers will include chief executive officers, chief investment officers and portfolio managers, among others.
Willis Sparks Global Strategist at The Eurasia Group will address geopolitical risks that affect investment markets, and closing speaker Greg Valliere, Chief Political Strategist of the Potomac Group, will provide a Washington outlook for 2016: political agendas, tax reform, legislative priorities, and a look at the future environment in which retirement plan investment advisers and analysts will operate.
Twelve investment management firms sponsor the 2015 (K)onvergence Summit:

AB
American Century Investments
Fidelity Investments
Franklin Templeton Investments
Galliard Capital Management
John Hancock Investments
MFS Investment Management
Oppenheimer Funds, Inc.
PIMCO
Principal Real Estate Investors
Thornburg Investment Management
TIAA-CREF Asset Management
The (K)onvergence Summit is organized by EACH Enterprise, LLC.
About EACH Enterprise
EACH Enterprise, LLC is dedicated to the institutional retirement plans market, serving investment management firms and recordkeeping service providers. EACH Enterprise helps client firms establish and maintain a clear position in target markets. Its coordinated initiatives include meeting planning, research, reporting, news release, social media, public speaking, and campaign management services.
EACH Enterprise has been designing bold and innovative programs since 2007, using a network of professionals with experience in retirement plans, research, meeting planning, communication, design, Website development, marketing, sales, distribution management, project management, and human resource management. The firm organizes annual and semi-annual events each year, including the (K)onvergence Summit, the Retirement Advisor Council planning meetings, and roundtables for Client Relationship Management, Participant Strategy, Strategic Account Management, and Conversion/Implementation Team Leaders.