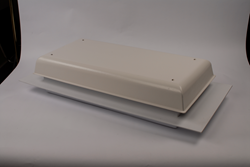 Tamarack CEO Tom Colasanto: Our unique TC1000T ventilating fan moves hot, stuffy air out of a sunroom or patio room while pulling in cooler outside air.
W. Wareham, MA (PRWEB) May 05, 2015
Tamarack Technologies (http://www.tamtech.com), an industry leader in alternative cooling products for the home, today unveiled two unique ventilating fans designed to move cooling air into rooms subject to enormous heat pressures in the summer.
The TC1000T is uniquely designed for sunroom and indoor patio applications while the TC1000H cools and refreshes rooms by ventilating air through either a sidewall installation or a solid roof.
"As people who own them know, sunrooms or patio rooms can be ideal for three seasons but uncomfortably hot in the summer," said Tamarack CEO Tom Colasanto. "Our unique TC1000T ventilating fan moves hot, stuffy air out of a sunroom or patio while pulling in cooler outside air. Its thermostatically controlled, two-speed operation moves 800 cubic feet of air per minute (CFM) and costs only pennies a day to run. For some sunspaces -- such as attached greenhouses – humidity can be a real problem. Our optional humidity control for the TC1000T easily solves this problem," he added.
"The TC1000H, on the other hand, was designed for homes with solid roofs," Colasanto continued, "Often, rooms under a solid roof will be hotter in the summer than in homes with attics. This ventilating fan, like the TC1000T, pulls cool air in and pushes hot, stuffy air out and can be mounted either on the roof or on a sidewall. It is energy efficient and can be run for pennies a day. Its two fans move 800 CFM. The TC1000H is also equipped with a motorized R-10 insulated damper that seals when the fan is not in use preventing cold air, insects, and the elements from entering a home year round. The TC1000H is the only ventilating fan designed and assembled in the USA for use in solid roof applications."
The TC1000H fan is single speed, comes equipped with a wall switch, is maintenance-free, and offers buyers a three-year warranty.
Tamarack Technologies is celebrating its 23rd anniversary this year. Tamarack is an industry leader in ventilation solutions, manufacturing state-of-the-art whole house fans, indoor air exchange products, pressure balancing products and electronic controls. The company's products have been designed to use minimal energy, providing years of maintenance-free service while also providing a healthier home environment.