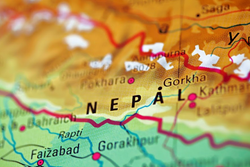 Raleigh, NC (PRWEB) May 04, 2015
Stop Hunger Now is preparing to provide disaster relief to Kathmandu, Nepal in response to the devastation as a result of the recent 7.9 magnitude earthquake. In conjunction with Stop Hunger Now India and other Non-governmental Organization (NGO) partners in the region, Stop Hunger Now is working to provide food and other aid for victims of the earthquake.
"Stop Hunger Now is acting quickly to provide life-saving food and aid to the families affected by the earthquake," said Rod Brooks, Stop Hunger Now President and CEO. "As the extent of the need becomes more clear, we intend to help the people of Nepal for as long as necessary."
With the help of volunteers and supporters, Stop Hunger Now wants to deliver at least 1.2 million meals to Nepal, which is enough to provide 2 meals per day for many as 21,000 people for one month. The initial response will include 700,000 meals to be packaged and shipped through the Stop Hunger Now affiliates in India and Malaysia, and 142,560 meals being air freighted from Kansas City, MO.
In addition to meals, Stop Hunger Now shipments will include other critical supplies and donated aid such as health kits medical supplies. Stop Hunger Now is working with in-country partner Hope Worldwide Foundation to distribute the meals and supplies.
Stop Hunger Now will stage meal packaging events, as well as transportation and distribution operations through its affiliate Stop Hunger Now India in Bangalore, India. Due to its close proximity to Nepal, Stop Hunger Now India will be able to coordinate the response faster, cheaper and more efficiently so that meals and other aid can get where it is needed most.
Stop Hunger Now is raising funds to package at least 500,000 additional meals in India and to support the transportation and distribution of the meals and donated aid to Nepal. For more information or to make a donation, visit http://www.stophungernow.org.
"Our affiliates around the world are able to respond quickly in times of crisis to get meals on the ground in a matter of days," said Brooks. "By establishing our meal packaging program in India this year, local volunteers use locally- sourced ingredients to support the local economy and give people in need access to a more secure future through local distribution of the meals and we able to provide immediate support to neighboring countries like Nepal when disaster strikes."
Founded in 1998, Stop Hunger Now has delivered aid and disaster relief supplies in the form of food, medical supplies, clothing, school supplies, and more to thousands of disaster victims and other hungry and vulnerable people around the world. Volunteers have packaged nearly 200,000,000 highly nutritious dehydrated meals comprised of rice, soy, vegetables, flavoring, and 23 essential vitamins and minerals during popular community-supported Stop Hunger Now meal packaging events.
Stop Hunger Now also has a track record of providing meals in response to disasters. In 2014, the organization shipped more than 3.8 million meals and donated aid such as medical gloves, face masks and personal protection equipment to partners in Sierra Leone and Liberia in response to the outbreak of the Ebola virus in West Africa. After Typhoon Haiyan struck the Philippines in November 2013, Stop Hunger Now shipped 3 million meals and more than $672,800 in donated aid for a response totaling more than $1.5 million towards relief efforts.
For 17 years, Stop Hunger Now has been creating a movement to end hunger. Nearly 200,000,000 meals have been packaged and distributed along with other aid to 65 countries impacting hundred of thousands of lives. The organization is driven by a mission to end hunger in our lifetime by providing food and life-changing aid to the world's most vulnerable and by creating a global commitment to mobilize the necessary resources.
The Stop Hunger Now meal packaging program was created to give dedicated individuals the opportunity to participate in a hands-on international hunger relief program and to become educated, engaged advocates for the world's poor and hungry. In 2014, Stop Hunger Now and its global affiliates packaged 50.6 million meals.
In its efforts to respond to emergency needs around the world, Stop Hunger Now receives and distributes significant donations of in-kind aid. These donations of large quantities of food, medicines, medical supplies and other such items are of use in fighting hunger and providing relief in a crisis.