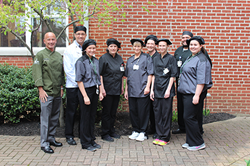 We were honored to have this highly accredited and skilled chef prepare an outstanding meal for our residents and share his culinary expertise with our staff.
Delaware, Ohio (PRWEB) May 05, 2015
Residents of the Sarah Moore Community were treated to a delicious meal crafted by culinary guru, Chef Michael Roddey on April 30. Chef Roddey joined Sarah Moore's culinary and nutritional services team and Chef Patrick Young of Swan Creek Retirement Village, Toledo, OH, to help create a fresh and fun menu. The evening menu consisted of Lobster Bisque, Potato Crusted Walleye, Braised Short Ribs, Smoked Gouda Whipped Potatoes and Flourless Chocolate Cake.
Roddey, an Altoona native and an executive chef, lecturer and industry and educational consultant who has his own business, Gastronomic Services & Consulting, Duncansville, led cooking demonstrations for staff at Sarah Moore and Ohio Presbyterian Retirement Services' Columbus Westminister-Thurber Community as well as preparing a delightful dinner for the Sarah Moore residents. During the demonstrations, Roddey offered up cooking knowledge and tips.
Roddey brings to the table over 20 years of diverse food service/hospitality industry career experience. During the past 10 years he has gained leadership experience serving on teams, task forces, committees and boards. A few of his highlights in these positions include the hiring of a CEO/COO, the review and approval of multi-million dollar budgets, the creation and adoption of educational curriculum and establishing short and long term organizational strategic plans.
Reinforcing his time and dedication to the industry, he holds numerous credentials from professional organizations including our ACF, the ANFP and the NRA. Receiving his education throughout the years, he holds a Certificate in Human Resource Management, Associate Degrees in both Culinary Arts and Linguistics, a Bachelor's Degree in Business Administration Management and a Master's Degree in Higher Education and Organizational Development. In addition, he is continually in pursuit of life-long learning and professional development opportunities.
As an active member of the American Culinary Federation throughout the country, he supports the ACF on many levels. You might find him serving as a Lead ACE for Certification Practical Exams, as a Member of an Accreditation Site Visit Teams for ACFEFAC, as the Chairperson for the Northeast Region of the Chef & Child Foundation, as presenter at our conferences and conventions, as a competitor or promoting the ACF throughout his various business and volunteer activities.
He is active in providing a broad spectrum of professional chef services focused on enhancing both industry and education. His food service career has taken him to different parts of the country, including New York and Alaska. He has also cooked for celebrities such as Kathy Bates, Chris Pratt and Jane Krakowski, and music legends The Beastie Boys, according to his website, chefroddey.com.
"We were honored to have this highly accredited and skilled chef prepare an outstanding meal for our residents and share his culinary expertise with our staff. It is yet another example of how our recent affiliation with Ohio Presbyterian Retirement Services has benefitted our entire community," commented Sarah Moore Executive Director Aric Arnett.
About Sarah Moore Community
The Sarah Moore Community is one of 12 retirement communities owned and operated by OPRS Communities, a wholly owned subsidiary of Ohio Presbyterian Retirement Services (OPRS), headquartered in Columbus. Since 1922, OPRS has defined the highest standards of quality of life for older adults. Each year, OPRS serves more than 73,000 people annually through its wholly owned subsidiaries OPRS Communities and Senior Independence.