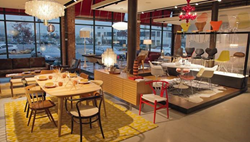 SuitePOS is modern, mobile and more tightly integrated with NetSuite than other POS systems we evaluated.
New York, NY (PRWEB) May 05, 2015
Design Within Reach (DWR), is using SuiteRetail's Apple iPad Point-of-Sale solution at their retail outlet, in Secaucus, NJ and will implement in their new location in Brooklyn's Industry City.
DWR has successfully moved from NetSuite's POS solution (aka RAPOS or Retail Anywhere POS) to SuiteRetail's SuitePOS for NetSuite to take advantage of real-time integration in the cloud and a simpler, faster and more modern interface for their sales associates and clients.
"SuitePOS is modern, mobile and more tightly integrated with NetSuite than other POS systems we evaluated."— Bethany Kemp, VP of Technology & Information Systems – DWR
Currently using SuitePOS for NetSuite to run their fixed lane and mobile POS operations within their Secaucus outlet and soon to launch in their new Industry City Brooklyn Warehouse, DWR will implement SuitePOS for Salesforce later this year in order to benefit from the single most powerful cloud platform in the world, Salesforce.
About SuiteRetail
SuiteRetail Inc. is a point-of-sale technology vendor and service provider specializing in integrated retail solutions for cloud-based platforms such as NetSuite and Salesforce1. Solutions from SuiteRetail are built around SuitePOS which fulfills a wide-range of specialty retail requirements in the brick and mortar storefront and is managed completely in the cloud as part of one integrated ERP/CRM suite. SuitePOS supports rapid fixed lane and mobile POS checkout, special orders, customer management, reporting and use of leading-edge POS hardware and features. For more information about SuiteRetail, please visit http://www.suiteretail.com.
Follow SuiteRetail's Facebook page at http://www.facebook.com/suiteretail and @SuiteRetail Twitter handle for updates, announcements and promotions.
Company Media and Marketing Contact
Jennifer Hughes
1.949.791.0795
press(at)suiteretail.com
About Design Within Reach
Design Within Reach, Inc., founded in 1998 and headquartered in Stamford, Conn., is the source for the best in authentic modern design. The company markets and sells its furniture and accessories to both residential and trade customers through its retail Studios in the United States and North America at http://www.dwr.com.
NetSuite and the NetSuite logo are service marks of NetSuite Inc. All other trademarks mentioned are the property of their respective owners.