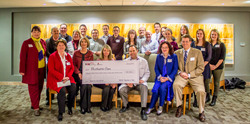 We are proud to have the opportunity to provide funding and support for breast cancer care and research through the ProHealth Care Foundation
Pewaukee, WI (PRWEB) May 05, 2015
Wisconsin Hospitality Group LLC (WHG) and its 36 Wisconsin-based Applebee's restaurants are proud to announce their first annual Apples For A Cure breast cancer fundraising campaign donation of $40,312.19 for ProHealth Care's breast imaging services and a genetic cancer research project.
During the month of October 2014, Applebee's restaurants offered an array of specials that benefited the campaign on Sundays and Wednesdays. Food and drink specials included 50¢ wings and Ultimate Trios, Raspberry Lemonade and Raspberry Cosmo martinis. Funds were also raised through the sales of Apples For A Cure commemorative martini glasses and pilsner pint glasses, each selling for $3, as well as campaign ribbon sales.
"We are fortunate to have employees and customers that believe in philanthropy, volunteerism, and community involvement," expressed Mark Dillon, company CEO and President of WHG. "Through our corporate commitment to charities, we hope to make a difference and to give back. Now, we are proud to have the opportunity to provide funding and support for breast cancer care and research through the ProHealth Care Foundation."
Fundraising support will be partially allocated to the construction of the ProHealth Cancer Center, which includes state-of-the-art breast imaging services. Once operational, the imaging center will perform as many as 27,000 screening exams per year, and will be suited to support the projected 25% increase in screenings by 2019. The new Pewaukee campus utilizes the latest screening technologies including 3D mammography and is dedicated to finding cancers in their smallest, most manageable stages in order to treat patients with the highest success rate and outcomes.
WHG is also providing funding for a collaborative molecular genetics study designed to gain insights on how genetic mutations may contribute to the development of specific breast and other cancers. The study focuses on clinical research and is limited to individuals diagnosed with cancer and/or their relatives. The clinical study allows researchers to gain insights and answers about the connections between heredity and cancer. Participant blood samples are analyzed and stored in a confidential cancer research registry. Through the analysis of sample and the collective historical data, critical information is gained on cancer risk and generational family patterns.
The company is targeted to raise $350,000 in five years through the sales of food and drink items as well as through the sales of campaign ribbons during the month of October each year. Through a charity partnership with ProHealth Care, 100% of net proceeds will be utilized for a designated cancer genetics research project and for the development of new state-of-the-art breast imaging services.
"Community support is crucial in expanding and enhancing ProHealth Care's cancer services. Support from the Wisconsin Hospitality Group is essential for helping us continue to provide high-quality patient services at the new cancer center and support valuable cancer research." Dr. David Roelke, Co-Chair ProHealth Cancer Center Campaign.
For over a century, ProHealth Care has been the health care leader in Waukesha County and surrounding areas, providing outstanding care across a full spectrum of services. The people of ProHealth Care strive to continuously improve the health and well-being of the community by combining skill, compassion and innovation. The ProHealth family includes Waukesha Memorial Hospital, Oconomowoc Memorial Hospital, Moreland Surgery Center, the Rehabilitation Hospital of Wisconsin, ProHealth Care Medical Associates clinics, AngelsGrace Hospice, ProHealth Home Care, West Wood Health & Fitness Center and Regency Senior Communities. Learn more at ProHealthCare.org.
Wisconsin Hospitality Group owns and operates 118 restaurants across Wisconsin. WHG has grown in sales to become the largest food service franchise company in the state. Headquartered in Waukesha, WHG operates 36 Applebee's Grill & Bar restaurants and 82 Pizza Hut Restaurants, all committed to guest satisfaction and community support.