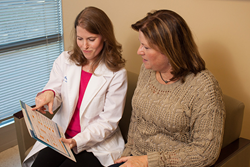 Durham, North Carolina (PRWEB) May 06, 2015
Chapel Hill Doctors Healthcare Center and Durham-based Lifestyle Medical Center (LMC) are pleased to announce the establishment of LMC's lifestyle modification and medical nutrition service at Chapel Hill Doctors located in Boyd Hall on the Vilcom campus off Weaver Dairy Road. "We are excited to bring the convenience of nutritional therapy to the residents of Chapel Hill and our existing patients of the Center," says Dr. Remy Coeytaux, co-founder of Chapel Hill Doctors.
"LMC's multi-disciplinary team includes clinicians, registered dietitians, and PhD-level researchers," says Jenni Grover, lead dietitian at Lifestyle Medical Center. "Our registered dietitians play an integral role in every patient's care team, and we are excited to collaborate with the providers at Chapel Hill Doctors to become a member of their patient care teams as well." LMC dietitians are all in-network providers with Blue Cross Blue Shield and time spent with them is covered by insurance. "The Affordable Care Act gives many patients access to preventive services," says Grover. "Depending on your healthcare plan, many Chapel Hill residents will be able to enjoy the support of our registered dietitians without incurring out-of-pocket expenses in the form of co-pays and deductibles." Grover adds that a Patient Liaison at LMC will be happy to research your insurance plan and provide a summary of your preventive benefits. Dr. Coeytaux is looking forward to more and more patients availing themselves to nutrition counseling at Chapel Hill Doctors. "Good nutrition and healthy lifestyle modifications are such a critical part of our patients' health and wellbeing, as well as an essential component of good primary care. With nutritionists located on site, our primary care doctors can work more closely with them to everyone's benefit."
Those interested in exploring the services offered by Lifestyle Medical Center at Chapel Hill Doctors should contact a LMC Patient Liaison for more information or to schedule an appointment.
About Chapel Hill Doctors
Chapel Hill Doctors Healthcare Center is the clinical and professional home to private medical and healthcare practices. Founded in 2007, the Center is locally owned and operated with a mission to provide excellent patient care and top customer service with longer appointments, no facility fees, and convenience. Patients have access to a broad range of health care services in one convenient location by trusted professionals who work collaboratively in a convenient multidisciplinary setting.
About LifeStyle Medical Center
Lifestyle Medical Center (LMC) is a medical practice based in Durham, NC that provides preventive health care services. We are a multi-disciplinary team of clinicians, registered dietitians, and PhD-level researchers working together to create customized real world lifestyle and nutrition plans just for you. Your customized plan addresses both your medical and health needs, while being built to work with your unique schedule, dietary preferences, and other lifestyle factors. We love technology and will help you integrate the most popular phone apps, activity trackers, and other wearables into your daily life. With extended hours, a convenient location, and a large team of providers, there is always availability to schedule your next visit with us.