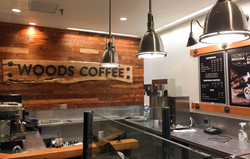 Being a part of Haggen's flagship store is quite an honor. Our family has shopped here since the day it opened
Bellingham, Washington (PRWEB) May 05, 2015
Woods Coffee, Coffee Roaster and Bakery, today announced its newest coffee shop will open on May 6, inside the Barkley Village Haggen in Bellingham. Woods' newest location will offer ninety-nine cent lattes and mochas from 9:00 a.m. to 1:00 p.m. on May 6 to celebrate.
"Being a part of Haggen's flagship store is quite an honor. Our family has shopped here since the day it opened," said Wes Herman, Woods Coffee owner. "There is no denying that Barkley Village has become one of Bellingham's biggest centers. We are proud to be a part of this high energy area!"
The seventeenth Woods Coffee location, in the former Starbucks location inside Barkley Haggen, will be open from 6:00 a.m. to 8:00 p.m. daily.
This announcement marks the company's tenth Bellingham location, and the first opening in Bellingham in more than two years. Already serving customers from its location inside the Sehome Village Haggen, this is the second Woods Coffee inside a Haggen grocery store.
For more information on Woods Coffee, visit http://www.WoodsCoffee.com, check out the company's Facebook page, or call 360.933.1855.
About Woods Coffee
Woods Coffee was established in 2002 by the Herman family of Lynden, Washington. With a dream of starting a chain of coffee shops, the Herman family pooled their talents and resources to create their first Woods Coffee shop. Today, 13 years later, the company has a total of 17 locations in the Pacific Northwest; offers its own line of fresh, in-house baked goods; roasts all of its own coffee; and offers an exclusive compost-a-cup brand of compostable cups. In addition, the company uses sustainable design and building practices, using LEED® standards where possible. For more information on Woods Coffee, please visit http://www.WoodsCoffee.com, or call 360.933.1855.