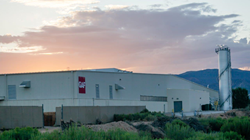 Parsippany, NJ (PRWEB) May 06, 2015
GAF, North America's largest roofing manufacturer, today announced plans to open a new polyvinyl chloride (PVC) manufacturing line at its commercial roofing plant in Cedar City, Utah. The line, which GAF expects to become operational as early as mid-2016, will transform the Cedar City operation into a full-service manufacturer and supplier of PVC and thermoplastic polyolefin (TPO) single-ply membranes as well as polyisocyanurate (ISO) insulation.
GAF also announced that it is actively considering locations for an additional plant in the eastern United States that will manufacture PVC, TPO and ISO. Known for its flexibility, ease of application, and chemical resistance, PVC remains a popular single-ply solution among commercial roofing contractors.
"The Cedar City PVC line will strengthen GAF's position as a leading-edge, full-service supplier of PVC, TPO, and ISO. By manufacturing all three products at Cedar City and soon on the east coast, we will deliver superior economies of scale to our operations and unrivaled service to our customers. This investment demonstrates our continued commitment to growth and leadership in the low-slope roofing market," said Bob Tafaro, president and chief executive officer of GAF.
"GAF is poised to leverage our track record of innovation and operational excellence. We're ready to bring to the PVC market the same ingenuity and manufacturing expertise that have helped us to manufacture best-in-class TPO products."
About GAF
Founded in 1886, GAF is the largest roofing manufacturer in North America. The company's products include a comprehensive portfolio of steep-slope and commercial roofing systems, which are supported by an extensive national network of factory-certified contractors. Its success is driven by its commitment to Advanced Quality, Industry Expertise, and Solutions Made Simple. GAF was the first roofing manufacturer to offer a Lifetime limited warranty on all of its laminated shingles, which then evolved with the introduction of the GAF Lifetime Roofing System by extending the Lifetime coverage beyond just the roofing shingles.
With a focus on social responsibility, GAF has developed Advanced Protection® Shingle Technology, which provides superior durability and wind resistance while reducing the use of scarce natural resources. The company has also developed single-ply and asphaltic membranes with superior durability and high reflectivity to meet the most rigorous industry standards while helping commercial property owners and designers reduce energy consumption.
GAF also supports the roofing industry through CARE, the Center for the Advancement of Roofing Excellence, which has provided education to over 125,000 professionals. CARE's mission is to help professional contractors and distributors build their businesses through sales and management education, and to provide product and installation training to contractors, distributors, architects, property owners, and related industry personnel. For more information about GAF, visit http://www.gaf.com.