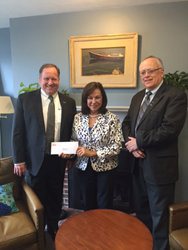 UNE truly is a private university with a public mission, and we are so pleased to develop a dental workforce pipeline for Maine's rural and underserved regions in collaboration with KeyBank, which shares our sense of civic responsibility."
Portland, ME (PRWEB) May 05, 2015
For over a decade, Maine oral health stakeholders and concerned residents have been developing a comprehensive plan to respond to the dramatic shortage of dentists in Maine. With 15 of its 16 counties identified as dental health shortage areas and a high percentage of its practicing dentists reaching retirement age within the next five to 10 years, Maine received a much needed boost in heading off its dental crisis in 2013 with the opening of the University of New England's College of Dental Medicine, the first dental college in Maine and all of northern New England.
UNE has now partnered with KeyBank to take strategic steps toward building a robust dental workforce pipeline for Aroostook and Penobscot Counties, two geographic areas of specific oral health need. With a generous grant of $160,000, KeyBank has made possible the Key to Oral Health program, an ambitious initiative with a long-term goal of encouraging select UNE dental graduates to practice in these underserved counties upon graduation.
The UNE – KeyBank partnership will leverage the transformational impact of UNE's College of Dental Medicine, provide enormous benefits to students and patients, and create a hopeful future that enhances the dental workforce pipeline while also improving oral health in Aroostook and Penobscot Counties, Maine.
Danielle Ripich, Ph.D., president of the University of New England, expressed her enthusiasm about launching the new program in collaboration with KeyBank. "It is exciting to enter this partnership with a business with which we are unified in our commitment to community," she stated. "UNE truly is a private university with a public mission, and we are so pleased to develop a dental workforce pipeline for Maine's rural and underserved regions in collaboration with KeyBank, which shares our sense of civic responsibility."
UNE has designed this program to maximize the impact of fourth year dental student rotations in Aroostook and Penobscot Counties. UNE dental students selected for the program – known as Key Oral Health Scholars – will participate in targeted, community-based service learning projects while they are completing their clinical rotations at Federally Qualified and other community health centers. Service learning is a superb model for helping students develop strong, lasting relationships with community members while on their rotations, bonds that will enhance their desire to return to serve these underserved communities upon graduation, thereby contributing to a long-term solution to the dental care shortage problem.
Over the course of an estimated 12-week rotation, Key Oral Health Scholars will have an opportunity to provide oral health education in local schools and senior centers, mentor high school youth interested in an oral health career, meet the region's dental professionals, bring their family to the area, and learn about the counties' unique and compelling landscapes, cultures, and attractions.
At the same time, UNE's dental students will provide much-needed care to the rural and underserved residents of Aroostook and Penobscot Counties. KeyBank's funding will provide generous support for program management, dental student scholarships and stipends, service learning projects, and training for clinical preceptors.
Sterling Kozlowski, president of the Maine Market of KeyBank, spoke of the bank's commitment to the program saying, "The Key to Oral Health is a great example of how UNE impacts the entire state of Maine. By sending its students out to the areas where the need is greatest, instead of keeping them in the classroom in Southern Maine, they will have the opportunity to learn, treat people in need and develop relationships in areas of the state where they will hopefully return to work. KeyBank is proud to support such an important endeavor."
Over the course of this three-year project, UNE's College of Dental Medicine will choose a total of 14 Key Oral Health Scholars by the end of 2016, with the first seven to be selected by December of this year. The university projects that up to 2,700 patient visits will be provided annually by the scholars, delivering 4,000 to 5,000 oral health care patient visits by the conclusion of the program on May 31, 2018.
KeyBank's Vice President of Community Development Banking Charlie Kennedy said, "KeyBank is in nearly every county in Maine, and we support our friends and neighbors through our community volunteerism and through financial support of great programs such as this…We are proud to be able to help."
The University of New England (UNE) is an innovative health sciences university grounded in the liberal arts. It has two distinctive coastal Maine campuses and a vibrant campus in Tangier, Morocco. With internationally recognized scholars in the sciences, health, medicine and the humanities, UNE offers more than 40 undergraduate, graduate and professional degree programs, and is home to Maine's only medical and dental schools. It is one of a select group of private universities with a comprehensive health education mission that includes medicine, pharmacy, dental medicine, nursing and an array of allied health professions. Visit http://www.une.edu.
###