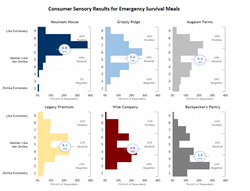 The fact is: the proof of the pudding is in the eating. Buy or request a free sample from multiple brands and compare the differences side-by-side.
Albany, Oregon (PRWEB) May 05, 2015
Mountain House has published the results of a consumer sensory study comparing it to other major brands of outdoor recreation, and emergency survival foods. The study, conducted by the Oregon State University Department of Food Science and Technology Sensory Lab, compared taste and appearance of "chili macaroni" dishes. Mountain House scored significantly better than other brands in both taste and appearance.
Based on the industry standard 9-point hedonic scale, 80 consumers rated Mountain House's Chili Mac with Beef against offerings from Augason Farms, Backpacker's Pantry, Grizzly Ridge, Legacy Premium and Wise Company. Mountain House's recipe scored a class leading average of 6.82 in taste and 7.36 in appearance. This is a weighty 1.19 points better in taste and 0.8 points better in appearance than their nearest competitor, Grizzly Ridge. They also had the most scores in the top end of the scale by a wide margin. Impressively, Mountain House had the least variation in all scores, which points to their tremendous focus on consistent quality and process control .
"Taste is imperative when choosing the foods that will comfort and sustain you in critical times," says Drew Huebsch, Research and Development Manager at Mountain House. "Technically speaking, you could survive on calories that don't taste good, but why not look forward to each meal?"
Widely regarded as the best tasting food in the industry, Mountain House acknowledges that taste preferences differ from person to person. They strongly encourage consumers to try sample products before investing hard-earned money, especially with food meant to sustain them away from home or in emergency & survival situations.
"Companies can talk about how good their food is until they're blue in the face," says Reiner Bohlen, Marketing Manager at Mountain House. "The fact is: the proof of the pudding is in the eating. Buy or request a free sample from multiple brands and compare the differences side-by-side. Go with the company that tastes best to you and your family. An emergency is no time to add even more stress with food your family doesn't enjoy."
Mountain House invites consumers who aren't familiar with their products to call 1-800-547-0244 and request a free sample. They can also be reached online at Mountain House Customer Service.
To read the full study and data, visit:
[http://www.mountainhouse.com/pdf/OSU_Sensory_Report_Consumer_Testing_Chili_Mac.pdf
This study follows another study released in April 2015 which demonstrated Mountain House's ability to protect packaged food from moisture better than other brands. It is the third of three studies released since March 2015 that supports Mountain House's claim of having the longest proven shelf life among emergency survival and outdoor recreation food brands with published third-party data.
About Mountain House
Based in Albany, Ore., Mountain House has been the first choice of backpackers, hikers, campers and emergency preparation experts for nearly 50 years. Why? Great taste, ease of use and reliability, no matter how extreme the environment. As a result, Mountain House commands more than 70 percent of the outdoor freeze dried meal market according to the Outdoor Industry Association. Their line of meals in pouches have a proven shelf life of 12+ years. Foods in their #10 cans have a proven shelf life of 25+ years. For more information and a complete list of products, visit http://www.mountainhouse.com.