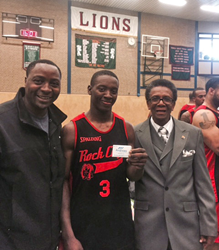 (PRWEB) May 15, 2015
Andrews Federal Credit Union recently sponsored the USAG Benelux-Schinnen Spring Invitational Basketball Tournament at the JFC Brunssum AFNORTH High School Gym. Teams from USAF Spangdahlem, Lithuania NATO Brussels, USAF Baumholder and the Tri-Border Community participated. Andrews Federal awarded a $150 gift card to the Most Valuable Player, Mr. Ladavain Sanders.
The tournament is organized to promote sports and recreation throughout the US military Benelux and Tri-Border communities, as well as increase morale and welfare around the military community.
"We were excited to once again support the military community'" said Andrews Federal Credit Union's James Niba, Schinnen Branch Manager. "There's nothing like a little friendly competition between service members."
About Andrews Federal Credit Union
Andrews Federal Credit Union was founded in 1948 to serve the needs of military and civilian personnel by providing a vast array of financial products and services. With over $1 billion in assets, Andrews Federal has grown to serve more than 105,000 members in the District of Columbia, Joint Base Andrews (MD), Joint Base McGuire-Dix-Lakehurst (NJ), and military installations in central Germany, Belgium, and the Netherlands. In addition, the Credit Union serves as a financial partner with many select employee groups in Maryland, the District of Columbia, and New Jersey.
To learn more about Andrews Federal Credit Union and its community involvement, or to become a member, call 800.487.5500 or visit http://www.andrewsfcu.org.